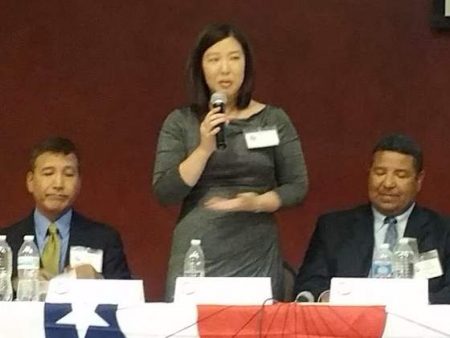 It is very difficult to beat incumbents in Santa Ana however local family law attorney Jessica B. Cha is giving it a go. She has filed to run against Santa Ana Mayor Pro Tem Vince Sarmiento in the upcoming November General Election, in Santa Ana's Ward 1.
Cha's parents came to the U.S. from South Korea in 1975. They have very little to their name and, like many Santa Ana residents, had to learn English. Cha's mother eventually worked full-time as a registered nurse. Cha remembers fondly that her mom always picked her up from school and never missed any of her school functions. Her mom also took care not only of Cha and her sister but also their grandfather, who lived with them.

Cha's website notes that from a young age she learned the value of hard work. She was raised to believe that she could accomplish anything she set her mind to. She credits her completion of a law degree to that mindset.
Cha's father, Walter, bought his first building in Santa Ana. He now owns a number of properties in our city.
Cha, a successful attorney, could have moved anywhere after she finished law school and started her legal practice. But she chose to buy a home in Santa Ana and she also established her law office here.
Cha says that she is passionate about this community – the community that embraced her family when they first came to the U.S. years ago. She says that she is running for the City Council this year because of her love and gratitude for the community.
Cha has wisely kept her campaign platform simple:
Public Safety – Santa Ana has experienced a shocking surge in gang-related crimes. In the first half of 2016 there have already been 210 shootings, including 15 homicides. Santa Ana needs strong leadership willing to prioritize public safety efforts and after-school programs to prevent further escalation.
Infrastructure – We need to actively maintain roads, fill pot holes, fix broken sidewalks, improve lighting in public areas, and maintain our parks, trees, and public facilities.
Schools –  Education is the single most important gift we can give our children. It is important our schools and teachers have the resources and safe environment to provide our children with top-notch education.
Cha is a graduate of the Syracuse University College of Law and UC San Diego.
You can reach Cha at jessicaforcitycouncil@gmail.com. Check out her Facebook page here.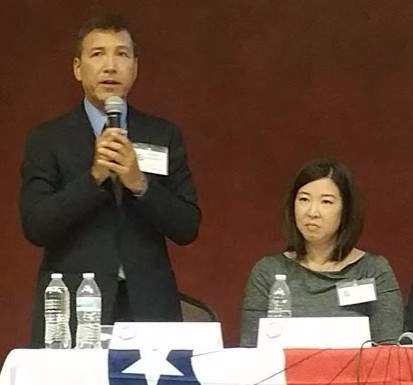 We wholeheartedly support Cha for the Santa Ana City Council. Sarmiento has not done nearly enough to fight the horrible increase in violent crime in our city. He has also supported the hiring of both inexperienced and ineffective SAPD Police Chief Carlos Rojas and our overpaid City Manager, David Cavazos. We feel that our residents would benefit from a new voice on our City Council and support the election of qualified women. Remember that Ward 3 Councilwoman Angie Amezcua is retiring from the City Council in November and Ward 2 Councilwoman Michele Martinez may get elected to the First Supervisorial District, which will result in having no women on our City Council.