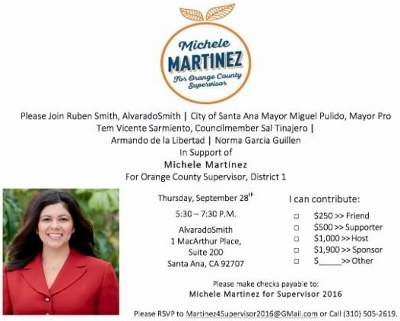 Santa Ana City Councilwoman Michele Martinez is hosting a fundraiser for her Supervisorial campaign on Wednesday, September 28th at the law offices of AlvaradoSmith, located 1 MacArthur Place, Suite 200, in Santa Ana.
If you are able to attend this event, please RSVP at Martinez4Supervisor2016@GMail.com or call (310) 505-2619.

Martinez was raised in Santa Ana since the age of 11 and was the first person in her family to graduate from high school and earn a college degree; she attended Spurgeon Intermediate, Santa Ana High School, Santa Ana College and California State University Fullerton.
Inspired by a desire to give back to the community that helped raise her, Martinez ran for Santa Ana City Council in 2006. She personally knocked on over 7,000 doors and to the surprise of the political establishment, won the election and became one of the youngest elected leaders in Santa Ana history. Martinez was recently reelected for her third term by a 34 percent margin.
Martinez was instrumental in stabilizing the city budget by creating the first fiscal reserve policy. The general fund reserves have grown from 3 million to 41.8 million in the past four years. Michele is most proud of championing the city's first, five-year Strategic Plan and Economic Development Strategic Plan. Martinez has also helped the city to increase its open space by 22 acres, and helped the city secure millions of dollars for active transportation to ensure pedestrian and bike safety, and improved and repaired nearly 300 miles of residential streets.
Martinez represents the City of Santa Ana on several regional boards; she is the President  for the Southern California Association of Governments (SCAG), the nation's largest metropolitan planning organization representing six counties, 189 cities and more than 19 million residents and was recently selected to serve on the Committee – Mobile Source Air Pollution Reduction Committee and Local Government Commission Board. She is an at-large member for theLeague of California Cities – Orange County Division, at-large member for the Board of Directors and was appointed by the Board of Directors of the LOCC to the Public Works, Transportation, and Technology committee. Martinez is a board member for the Orange County Waste Management Commission and is also the City's representative on Orange County Council of Governments (OCCOG), a joint powers authority established to monitor, analyze and provide Orange County's technical and policy recommendations on all SCAG plans and programs. Recently, Martinez was selected by Council to serve on the Metropolitan Water District Board and the Transportation Corridor Agency.
She is the immediate Past-President of the National Association of Latino Elected and Appointed Officials (NALEO) and is a board member for the Southern California Latino Policy Center, a non-partisan, policy education and research organization.
Martinez graduated from California State University, Fullerton where she earned a B.A. degree in Criminal Justice.