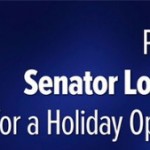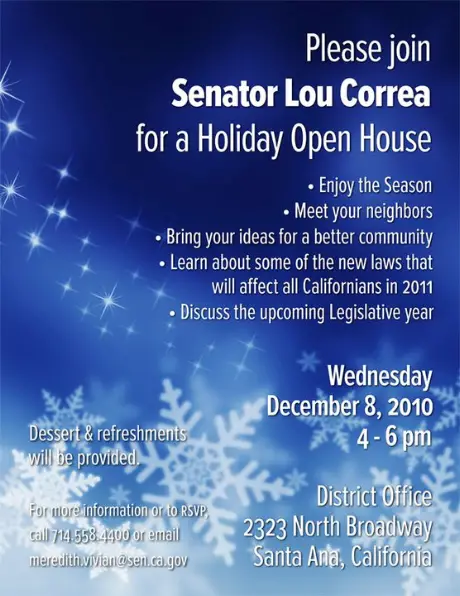 Dear Friends,
As the holiday season quickly approaches, I look forward to spending time with my wife, our children, and family friends. At the same time, I'm aware that many people in Orange County are less fortunate. If you or your family needs assistance this holiday season, there are numerous organizations that can help. Below you will find just a few that are graciously serving the 34th district.
I will also be hosting my annual Holiday Open House on Wednesday, December 8, 2010 from 4:00PM to 6:00pm at my District Office in Santa Ana. Come meet other Orange County residents and bring your ideas for how to make our community even better. For more information or to RSVP, call (714) 558-4400 or email meredith.vivian@sen.ca.gov.  Or click here to RSVP on Facebook.

Have a wonderful holiday season.
Sincerely,
Lou Correa
State Senator, 34th District
________________________________________
Garden Grove
Grandma's House of Hope (GHH)
GHH distributes food, gifts, and toys to hungry children and their parents during the holiday season. Contact Lori Solomon at lori.grandmashouse@gmail.com for more information.
Santa Ana
Veterans First, Thanksgiving at the Veterans House on Manor
Veterans First is serving dinner to homeless veterans at four locations on November 25th from 11:00am to 2:00pm. Please contact Beau McGaughey at beau@veteransfirstoc.org for more information.
The Wooden Floor
Each year, The Wooden Floor, previously known as Saint Joseph Ballet, provides gifts for 375 underprivileged youth at its annual student holiday party. Please contact Susie Forbath at Susie@TheWoodenFloor.org for more information.
OneOC, Spirit of Giving
The Spirit of Giving is a service learning project where 1st grade students are taught the importance of community service. Please contact Shannon Reyes at sreyes@OneOC.org for more information.
Mercy House Living Centers, Holiday Adopt-a-Resident Program
Please contact Ashleigh Anderson Camba at ashleigha@mercyhouse.net for more information.
County of Orange
The Orange County Toy Collaborative
The Orange County Toy Collaborative provides holiday gifts to children from low-income households. Please visit www.ocgov.com/volunteer.asp for more information.
Orange County Toy Collaborative
Operation Santa Claus distributes donated gifts and toys to underprivileged youth during the holiday season. Please contact Jane Dawson at Jane.Dawson@ocgov.com for more information.
Military Children's Charity, Inc.
The Military Children's Charity distributes toys to American Servicemember's children. Please contact Cherie Navarro at cnavarro@militarychildrenscharity.org for more information.
Orangewood Children's Foundation
The Orangewood Children's Foundation distributes gifts to current foster youth, former foster youth, and low-income families throughout Orange County. Please contact Lupe Barerra Lbarerra@orangewoodfoundation.org for more information.
Providence Community Services
Providence Community Services distributes gifts to needy children who would otherwise go without during the holidays. Please contact Adrienne Davalos at adavalos@provcorp.com for more information.
WISEPlace, Adopt-a-Resident
Please contact Cindy Ruiz at cruiz@wiseplace.org for more information.
Corazon, 2010 Community Christmas Party
The community of Cumbres and Pedregal are hosting a community Christmas fiesta. Please contact Julissa Espinoza at office@corazon.org for more information.
California State Senator Lou Correa – District 34
Web site: http://www.senate.ca.gov/Correa
The website is now available with sections in Spanish, Vietnamese, Chinese, and Korean.
E-mail: Senator Lou Correa
Capitol Office
State Capitol, Room 5052
Sacramento, CA 95814
(916) 651-4034 District Office
2323 N. Broadway, Ste. 245
Santa Ana, CA 92706
(714) 558-4400
(c) 2010 California State Senate