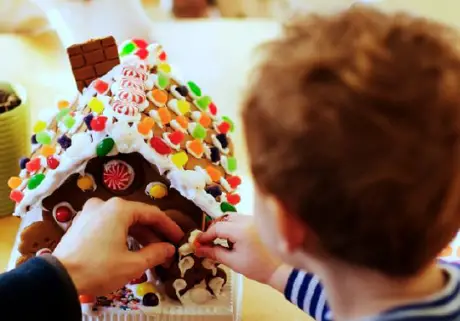 December 11
Discovery Science Center "Science of Gingerbread" (Dec 11, 2010 – Jan 2, 2011)
Inside the kitchen, much more is going on than pouring and mixing – it's science at work! Our holiday festival is filled with festive activities designed to bring families together this holiday season.
Gingerbread House Workshops. Learn from local chefs how to build & decorate a gingerbread house:
Sat, Dec 18: Garden Grove ROP
Sun, Dec 19: Tracy Lopez
Award Winning Gingerbread Displays: Daily through Jan 2.  See Gingerbread Competition entries throughout the Center!
Hands-On Kitchen Science Activities: Daily through Jan 2.  Find out all about kitchen tools, recipe science and more!
"A Matter of Taste" Stage Show: 11a,1p,3p,4p; Sat/Sun through Jan 2.  How are taste and smell different? Find out for yourself!
Photos w/Santa Claus: 11am-3pm; Dec 4&5,11&12,18-24.  Don't miss your chance to take a photo & visit with Santa!
Cookie Decorating: 11:30a, 1:30p, 3:30p; Dec 4&5,11&12,18-30.  Decorate holiday cookies and eat them too!
Train Modeling Demonstrations: Schedule TBD.  Check out exclusive demos by Toy Train Engineers of the Southern California.
"Ask a Scientist" Series: See special presentations by local scientists.
"Ask a Scientist" Series Schedule:
Sat, Dec 4: FDA Supervisory Consumer Safety Officer, Vien Lee.  What's the difference between good bacteria and bad bacteria? Find out in this presentation from a real FDA Officer.
Sat, Dec 11: FDA Supervisory Consumer Safety Officer, Michael Araneta.  How do you wash your vegetables? Can you leave a gallon of milk out for an hour and refrigerate? What's pasteurization? Find out these answers and more!
All activities and demonstrations are free after admission. Dates and activites are subject to change.