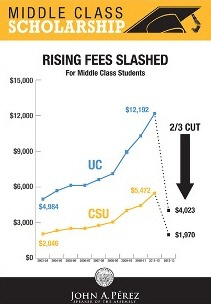 For Immediate Release: February 9, 2012
For More Information Contact: Carol Chamberlain – office: (916) 319-2069, mobile: (916) 804-5355
State Assemblyman Solorio Helps Unveil Middle Class Scholarship Program
Legislation will end unfair burden on middle class from rising public college fees

SACRAMENTO – State Assemblyman Jose Solorio (D-Anaheim) announced today that he is co-authoring new legislation to create California's Middle Class Scholarship program. Introduced by Assembly Speaker John A. Pérez, the proposal is designed to keep more money in the pockets of middle-income families whose students attend the state's public colleges and universities.
Chart above shows the steep savings on California public college fees a student would gain if the Middle Class Scholarship Program is implemented.
"If this legislation becomes law, all students attending California State Universities or the University of California with family incomes less than $150,000 will receive a Middle Class Scholarship that cuts fee costs by 2/3," explained Solorio. "Middle Class Scholarships will make public universities and colleges affordable again, and will not affect low-income students who can continue to rely on Cal Grants and federal Pell Grants."
Due to the national recession and chronic budget shortfalls, college fees have risen dramatically over the last decade. Since the 2003-2004 school year, CSU fees have increased 191 percent, UC fees have increased by 145 percent, and community college student fees have also increased significantly.
"California's public colleges create tomorrow's leaders," continued Solorio. "This investment in our future will be covered by closing a tax loophole that only benefits out-of-state corporations." The corporate tax adjustment will bring in $1 billion annually for the Middle Class Scholarship program.
For the CSU, it is estimated that approximately 150,000 students will receive the Middle Class Scholarship and save $4,000 per year. For the UC, it is estimated approximately 42,000 students will receive the Middle Class Scholarship and save up to $8,169 per year.
Community College districts will have local discretion to allocate $150 million to best meet their needs, including reducing fees, expanding the use of fee waivers, or providing grants to cover the costs of books or other educational expenses.
The Middle Class Scholarship legislation is contained in two bills. AB 1500 would eliminate the tax loophole and set up the fund, and AB 1501 would create the scholarship program. This legislation will require a 2/3 vote of the Legislature.
###
State Assemblyman Jose Solorio is the Chair of the Assembly Insurance Committee and also serves on the Assembly Appropriations and Transportation committees. He represents the Sixty-Ninth Assembly District, which includes the cities of Anaheim, Garden Grove, and Santa Ana. For more information about Assemblyman Solorio, visit www.assembly.ca.gov/solorio.