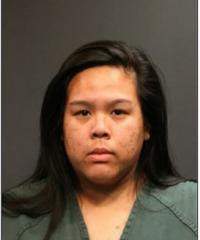 Santa Ana Police Department
Advisory: Second suspect in felony hit and run arrested
On Monday March 3 at 4:10 PM a 14-year-old girl was crossing against the red traffic signal and tried to run between two vehicles at the intersection of Bristol Street at 17th Street. She was hit by two vehicles, and both drivers left the scene. Adan Camacho (32) Santa Ana, the driver of a truck who first struck the victim never stopped to render aid. Officers eventually arrested and booked Camacho for felony hit-and-run, thanks to a Good Samaritan who followed the suspects truck and directed officers to the vehicle.
The driver of the second vehicle a Cadillac did get out of her car, but when officers arrived, she never identified herself as being involved and left the scene. Based on video evidence law enforcement believed the driver was possibly a Santa Ana College student. Today Wednesday March 5th, Campus Public Safety Officer observed a vehicle matching the suspect vehicle description at the campus. They contacted the driver and requested the assistance of SAPD.
SAPD Officers contacted the driver of the vehicle Amanda Aie Sananikone (21) Anaheim; she was interviewed by officers and arrested for CVC 20001 Felony Hit and Run. She was transported to SAPD Jail where she been booked booked.
###