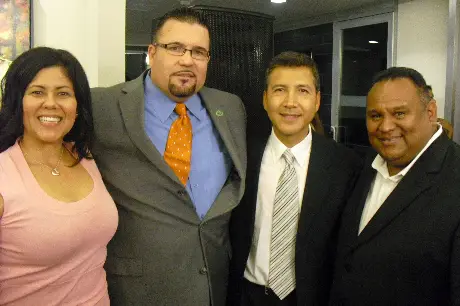 Sean Mill was appointed last night, at the Santa Ana City Council, to the Planning Commission.  Mill was nominated by Councilman Sal Tinajero, who won re-election to a four year term in November of last year.  Mill previously served about three years on the Planning Commission.
Only two residents spoke against Mill's nomination.  One of them, Mike Tardiff, opposed a proposed Buffalo Wild Wings restaurant that was slated to open at a food court on 17th St., near Tustin Ave., by Orchard Supply Hardware.  Mill supported that venture, while he was on the Planning Commission.  Tardiff and his allies sued to stop the project and the owners of the restaurant decided to open it elsewhere.  That food court is now desperately trying to survive, without a main anchor tenant.
The Council asked Mill a few questions and his answers were found to be satisfactory.  Mayor Pro Tem Claudia Alvarez grilled him on the question of whether or not he supports the Artists Village.  Mill affirmed that he does, but he does not support public subsidies of the Artists Village.
In the end, Mill was appointed by a 5-2 vote.  Only two Council Members opposed him – David Benavides and Carlos Bustamante.
Benavides had a score to settle with Mill, who exposed him this summer for supporting Minuteman Lupe Moreno, when she and her fellow Minutemen took over the 4th of July event that was held at the Santa Ana library.  One of the Minutemen was caught on video calling a Santa Ana resident a "wetback," but Benavides honored Moreno and her event committee nevertheless.
Bustamante's vote was not a surprise since he is the Council's lone Republican and he often votes in ways that make sense only to him – and his ally Benavides.  Bustamante was caught this summer actively campaigning for Republican Van Tran, who went on to lose badly to Congresswoman Loretta Sanchez in November.  Local Democrats are said to be targeting Bustamante, who is coming up for re-election in 2012.