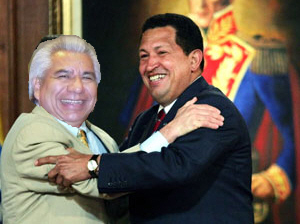 There are some that say that failed Santa Ana Mayoral candidate Alfredo Amezcua is being heroic because he is still fighting, months after he lost his election last November.  To me it seems like Amezcua is a sore loser – and he clearly does not accept the will of the voters.
This reminds me of Venezuelan President Hugo Chavez, who got thrown in jail after he tried to pull off a coup.  He got out a few years later and took over anyway – and now he is Latin America's biggest loon.  The same thing happened in Cuba, where Fidel Castro got tossed in the can, then got out and staged a coup.  In Latin America democracy is fine unless you don't like the results – which generally sets off armed insurrections.
Should Amezcua accept the will of the voters and graciously end his rebellion or should he keep pestering the Santa Ana City Council and Mayor Miguel Pulido?  Let the will of our readers be known – here is your chance to vote on this issue:
Loading ...