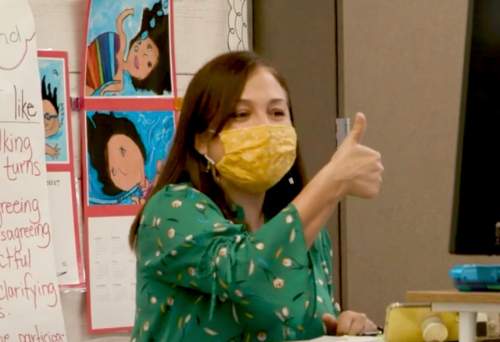 The California Department of Education today named Laura Gómez, a third-grade teacher at Martin Elementary School, as a 2021 California Teacher of the Year, the highest honor for educators statewide. 
Gómez, a teacher of 25 years, is one of five teachers across California to earn this recognition. Gómez was named earlier this year as the Santa Ana Unified Teacher of the Year and as an Orange County Teacher of the Year.
"I want to congratulate Ms. Gómez for this tremendous honor," SAUSD Superintendent Jerry Almendarez said. "This recognition reflects her hard work and dedication to her students, her school and to our overall SAUSD community. Ms. Gómez works to support her students' academic and social-emotional needs through her enthusiastic and engaging approach to learning."
As an immigrant and first-generation college graduate, Gómez has sought to build community connections by planning family nights that focus on literacy, math and science. She also plans field trips to area colleges, attends student performances outside of school, develops hands-on science activities for the District's School Choice Fair, and organizes "Mother's Day Tea" and "Donuts with Dad" activities.
"I am deeply honored to be one of the 2021 California Teachers of the Year," Gómez said. "I am very lucky to get to do something that I am truly passionate about: teaching my students."
Gómez's classroom has been described as a welcoming place where students feel safe to take risks and be creative. She builds a culture of reading by offering a vibrant library of student-centered books and expanding the selection based on the requests of young readers.
"My approach is centered on each child being 'seen' in the classroom, and the value of choices," she said. "Developing a positive relationship with students cultivates their participation. This is especially true during this pandemic, as we reimagine teaching, engagement, and learning with time constraints through a two-dimensional format."
The California Teachers of the Year Program began in 1972 to honor outstanding teachers and encourage and inspire new teachers to enter the profession. These educators are ambassadors for the profession and serve as representatives of the state for the calendar year.
"In a year that might be the most challenging in all of our lives, these five inspiring teachers have made profound differences in the lives of their students and communities," State Superintendent of Public Instruction Tony Thurmond said. "I'm proud that these educators are receiving this prestigious honor for their continued effort to rise above the challenges and connect with students even during unimaginable circumstances."