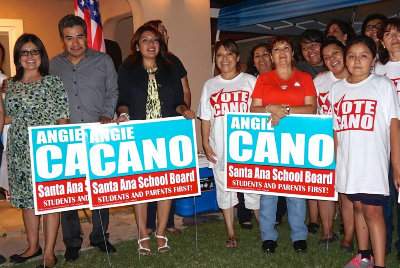 FOR IMMEDIATE RELEASE
Contact: Angie Cano, rcano@uci.edu, 714-957-5744
Santa Ana School Board Candidate calls for initiatives to raise pedestrian and bicycle safety
SAUSD candidate Angie Cano wants Santa Ana students safer, smarter and more protected
Santa Ana, California – Santa Ana Unified School Board candidate Angie Cano wants all the students in her hometown protected against alarming increases in pedestrian and bicycle injuries from vehicles.
Cano has personally experienced the dangers faced by Santa Ana youth today.  She was raised in Santa Ana and is a Segerstrom High School honors graduate.  Cano is now completing a triple major in Economics, Political Science and Spanish Literature at UC Irvine.
"The rising number of injuries and fatalities to students who walk or bike to school is simply unacceptable," said Cano. "Even one accident is one accident too many."
"My Santa Ana Unified School Board platform is simple: put students and their families first," continued Cano. "Safety should be a priority not an option. As a School District, we must to ensure all our students can safely walk or ride their bicycles to school every day."
Cano wants the Santa Ana Unified School District to accept a greater responsibility to protect students from vehicular danger and be more proactive about preventing accidents. Her three-point plan submitted to the district will help make this happen.
"First, we must work closely with the City of Santa Ana and both the Santa Ana Police Department and the SAUSD School Police to ensure all major student-pedestrian intersections have the proper infrastructure and equipment to keep our students safe," Said Cano.
The pedestrian crossings near many Santa Ana schools often lack state-of-the-art traffic technology, proper signage, or even crossing guards to lessen accidents against students. In fact, SAUSD officials were unaware that Santa Ana Police Department had removed as many as 28 school crossing guards this school year.
Says Cano, "The Santa Unified School Board must interact more intensively with the Santa Ana Police Department to protect our students."
"Second, we must take greater advantage of available resources to improve pedestrian and bicycle safety," continued Cano. She proposes adoption of a new U.S. Department of Transportation initiative to reverse the growing rate of pedestrian and bicyclist injuries. "DOT's Safety Assessment Program of key bike/pedestrian routes is tailor-made for Santa Ana. We must go that last mile, and work with both State and Federal officials to protect our students as they go to and from school."
"Third, SAUSD must educate parents, teachers and students on defensive walking and bicycling," said Cano. "It is not enough to excel academically if our children are unsafe and when low-cost solutions are at hand." Cano cites the tragic death in February of 15-year-old Santa Ana girl, who was dragged to her death by a motorist who stole her iPhone. "With proper education and awareness, needless fatalities like this can be prevented, and our students can be assured a better life."
"As Santa Ana School Board Trustee, I will promote better partnership with the City and police agencies, find and recommend 21st Century technology and work arduously to mobilize and raise awareness about safety," concluded Cano. "I know it is tough to be part of the youth in Santa Ana. However, our student's lives and voices are important to me. I want Santa Ana's youth to know we can make a difference in our community. In it all, I care both about the safety and quality of education our students receive."
###
Paid for by Angie Cano for the Santa Ana Unified School District School Board, FPPC # 1369193
www.votecano.com