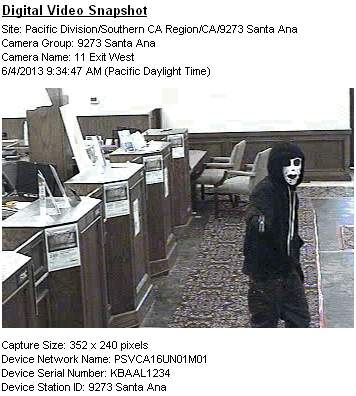 Santa Ana Police Department Advisory: SAPD Seeks Public's Assistance to Help Identify Bank Robbery Suspects
SANTA ANA, CA (June 4, 2013) – On 6/4/13 at approximately 9:40 am, a male suspect entered US Bank, located at 2740 N. Grand, armed with a black semi-automatic handgun. The suspect had his face concealed with a hoodie and mask and ordered all the customers to get on the ground face first. The suspect then ordered the bank employees to put money in a bag. The customers and bank employees complied with the suspect's commands before the suspect fled out of the bank north on foot with an undisclosed amount of money. The suspect then met up with another suspect, acting as a lookout, and they both fled on foot west into an adjacent apartment complex. Witnesses reported the suspects' actions and investigating officers located two separate areas where they dropped money. The money was recovered, however, the suspects avoided capture.
US Bank is offering a reward of up to $10,000 for information leading to the capture of these suspects. No one was injured as a result of the robbery.
The suspects are being described male, African Americans, approximately 5-8 to 6 feet tall, thin build, wearing dark clothing. Anyone with information is asked to contact Orange County Crime Stoppers.
####
For full details, view this message on the web.