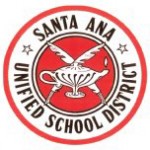 LOL!  The sinking Santa Ana Unified School District is paying a headhunting firm big bucks to find them a new Superintendent, but they still want our input, supposedly.  You can take their survey below and let them know what you are looking for in a new Superintendent.  Be sure to tell them you don't want Ed Heatley to get the job.
Notice to the Public: Superintendent Search:
The trustees of the Santa Ana Unified School District will select a new district superintendent. Community input about the desired characteristics to be used in recruiting and selecting this person is desired. The trustees are soliciting input to respond to the prompt: What personal and professional qualities for an incoming superintendent will be a match for the Santa Ana Unified School District? Please click here to participate in the online survey. If you prefer to take the online survey in Spanish, please click here.
Gwen Gross, Rich Thome, and Don Iglesias of Leadership Associates were selected to advise the Board in this important process. They will be in our district on Wednesday, June 5, 2013, Thursday, June 6, 2013, and Monday, June 10, 2013 to solicit input.
For more information, please contact Deidra Powell, Chief Communications Officer at (714) 558-5555 or via email to deidra.powell@sausd.us.
Posted on: Friday, May 31, 2013