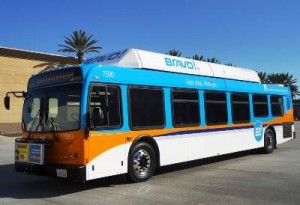 FOR IMMEDIATE RELEASE: June 4, 2013
FOR MORE INFORMATION: Joel Zlotnik (714) 560-5713, Laura Scheper (714) 560-5697
Bravo! Bus Speeds Up Harbor Boulevard Commute
OCTA launches limited-stop service June 10 and offers free rides Monday through Wednesday
ORANGE – Bravo! Route 543 – the new limited-stop bus service along Harbor Boulevard – will begin operating Monday, June 10, giving commuters an opportunity to make it to their destination more quickly.
The Orange County Transportation Authority service will have distinct blue and orange buses with Bravo! branding. The service will run 12 miles along Harbor Boulevard stretching from the Fullerton Transportation Center, through Anaheim, Garden Grove, Santa Ana and ending at MacArthur Boulevard in Costa Mesa.
"OCTA is proud to launch this new service to provide our passengers with a more efficient travel option along one of our busiest routes," said OCTA Chairman Greg Winterbottom. "I want to encourage everyone commuting longer distances on Harbor Boulevard to give Bravo! a try."
OCTA is offering free rides on Bravo! Route 543 Monday, June 10 through Wednesday, June 12 to allow passengers to experience the new service.
Bravo! Route 543 shares some of the same stops as current Route 43, with stops farther apart at major transfer points and major destinations. Route 543 only stops at the 15 Bravo! stops identified by the unique "B!" bus stop signs. Route 43 averages more than 13,000 riders each weekday.
The Bravo! Route 543 fare remains the same as regular OCTA service: $2 per boarding or $5 for a day pass. Bravo! service runs between 5 a.m. and 6 p.m. on weekdays only.
Route 543 is designed to travel faster down Harbor Boulevard and passengers are encouraged to use pre-purchased bus passes instead of cash to help speed the ride. OCTA offers a variety of pre-paid bus passes that can be purchased at any Orange County Ralphs, Vons, Pavilions or Northgate market, or at the newly installed bus pass vending machine located at the Fullerton Transportation Center.
The launch of Bravo! marks OCTA's continued effort to improve bus service and create more efficient ways for passengers to travel throughout the county. After managing through the recession, OCTA has started increasing bus service by adding back in about 60,000 service hours to address on-time performance and overcrowding on the most heavily traveled routes.
# # #