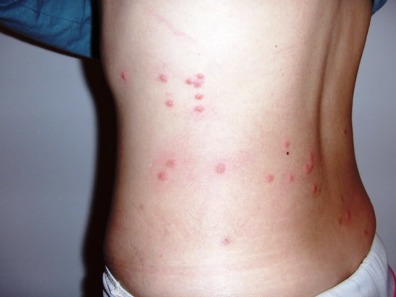 Santa Ana Police Department Advisory: FLEA-BORNE TYPHUS ALERT FOR LOCAL SANTA ANA COMMUNITY
FLEA-BORNE TYPHUS ALERT FOR LOCAL SANTA ANA COMMUNITY
SANTA ANA, CA (May 25, 2012) – Earlier this week Santa Ana officials were notified by O.C. Vector Control that, as of last Friday, there is a Santa Ana resident with a confirmed case of Typhus. The resident lives in the area of Broadway/Washington; due to HIPAA regulations the actual address cannot be revealed. Since being notified, the O.C. Vector Control has gone out to the community in the immediate area, to the closest surrounding schools, and disseminated literature advising how they can protect themselves.
Flea-borne typhus, also known as endemic typhus, and murine typhus, is transmitted by fleas. It is caused by the bacteria, Rickettsia typhi and Rickettsia felis, found in infected fleas and their feces. Both rickettsiae are transmitted transovarially (the female fleas transmit the disease to their offspring).
Signs and Symptoms
Symptoms begin from one to two weeks after exposure and include:
•High Fever
•Headaches
•Chills
•Body Aches and Pains
•Rash on chest, back, arms, and/ or legs
Because flea-borne typhus shares symptoms with many other diseases, a blood test is required to confirm any diagnoses.
Currently, Vector Control has set numerous traps in that area but so far they have only caught opossums and they are attempting to catch feral cats. In the event a feral cat is caught, Santa Ana Animal Services will follow a specific protocol for sedating, transporting and euthanizing the animal at O.C. Vector Control's facility.
At this time public health officials have not received reports of additional cases in the area. The City of Santa Ana is notifying the public so they can protect their pets and educate their families on how to avoid exposure. On Tuesday, May 29, 2012, Santa Ana Animal Services and Vector Control will be working cooperatively to capture wild animals in the area that may be infected with the disease.
The following steps can be taken to avoid contracting typhus:
•Pets, yards, and homes should be kept free of fleas by treating pets with flea prevention medication
•Eliminate places where wild animals, such as Opossums, Cats, Rats, and Raccoons, can find shelter
•Eliminate all food sources
•Take personal precautions by wearing protective gear when cleaning areas that me be infested with the above-mentioned animals
For additional information, call Orange County Vector Control at 714-971-2421 or visit, www.ocvcd.org.
###