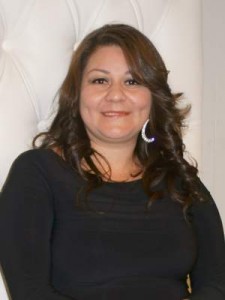 ORANGE RESIDENT GLORIA ZAMBRANO HONORED WITH FAIRHAVEN'S OLIVER HALSELL CARE AWARD
SANTA ANA, Calif. – February 21, 2012 – For Orange resident Gloria Zambrano, caring for seniors is a proud family tradition. The daughter of a senior care nurse, Gloria accompanied her mother to work as a young girl where she would participate in activities with residents and do whatever she could to bring joy to their day. As she grew, so did her passion for service, leading her to an 18-year career in senior care.
Zambrano, resident services director for Fountain Senior Assisted Living is being honored as the February recipient of Fairhaven's Oliver Halsell Care Award. Fairhaven, an Orange County mortuary and memorial park with locations in Santa Ana and Mission Viejo, created the recognition program in 2012 to pay tribute to individuals who have demonstrated exceptional care in their profession, community and the world at large.
"Gloria is a shining example of how the gift of caring can be passed down from generation to generation," said Marla Noel, president of Fairhaven. "She strives daily to make a positive impact on residents and their families with a listening ear, a smile and a word of encouragement."
As resident services director, Zambrano has a broad array of roles and responsibilities, beginning with outreach to the community. She regularly interfaces with social workers and visits with potential residents and their families. "There is always a need for senior care in the community and my goal is to offer a comfortable place where they can receive the level of care they need during this stage of their life."
When she's not out in the community, Zambrano's time is spent caring for Fountain Senior Assisted Living's 82 residents, participating in activities, sharing conversations and attending to their various needs throughout the day. Her pride and joy is Fountain Senior Assisted Living's Memory Care program, which provides special care and supervision for residents with Alzheimer's disease. "Our residents are extraordinary people who have lived extraordinary lives," said Zambrano. "Helping them tap into these memories is both illuminating and inspirational."
At the end of the day, her biggest responsibility is also the most simple; bringing joy to someone's day. For as long as she can remember, Gloria Zambrano has seen the profound effects of this joy and this is what drives her to embrace her role as a caregiver with energy, passion and a smile.
She will be honored at Fairhaven's Oliver Halsell Care Awards banquet in the fall at Fairhaven's Mission Viejo location. The banquet honors a year's worth of achievements among the local community. Additionally, Fairhaven will make a donation to the Alzheimer's Association on behalf of Zambrano.
About Fairhaven's Oliver Halsell Care Award
Fairhaven's Oliver Halsell Care Award pays tribute to Orange County individuals whose kindness and dedication to serving others is inspirational. These courageous individuals go above and beyond their job descriptions to serve with the utmost care and compassion. Fairhaven's Oliver Halsell Care Award winners come from many fields including private care, hospice, social work, counseling, assisted living, nursing, therapy and volunteer work.
For more information and to nominate a deserving candidate, visit Fairhaven's website: http://www.fairhavenmemorial.com/community/oliver-halsell-care-award or email CareAwards@FairhavenMemorial.com.
About Fairhaven
Founded in 1911 by Oliver Halsell to provide a peaceful and comforting place for families to honor their loved ones, Fairhaven Memorial Park & Mortuary is Orange County's most beautiful independently owned and operated full-service mortuary, crematory and cemetery. With the memorial park and mortuary in Central Orange County and an elegantly appointed mortuary in South Orange County, Fairhaven offers a wide range of pre-need and at-need services provided with care and compassion. Fairhaven is dedicated to celebrating the individual, providing services that are as unique and wide-ranging as the people they celebrate. Additional information is available at www.fairhavenmemorial.com. Connect with Fairhaven at www.facebook.com/fairhavenmemorial or www.twitter.com/fairhavenoc.
# # #