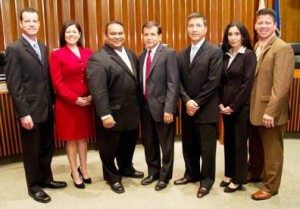 It looks like our Santa Ana City Council is beginning to wave the white flag as the State of California continues to demand the return of millions of dollars of redevelopment funds.   
"Santa Ana City Council members Tuesday night in a closed-door meeting decided to freeze payments to affordable housing developers depending on funds central to a $54-million standoff between city officials and the state Department of Finance. The move reverses a defiant stance council members took last December to continue paying the developers, despite the threatened use of "clawback" measures allowed under the redevelopment dissolution bills that empower Sacramento to withhold sales and property tax revenue. Such a punitive move could cripple the city's already fragile financial position," according to the Voice of OC.
The Voice of OC also reported that "Council members had expressed confidence about the city's claim to the funds. But council members reversed that stance because of concerns about adverse impacts to the general fund, City Attorney Sonya Carvalho announced Tuesday night, signaling that city officials could be losing confidence in their position."
The Council has fired their capable City Manager, Paul Walters, and are now paying a temp City Attorney, Kevin O'Rourke, over $22K a month.  And now it looks like the city is going to have to fork over $54 million to the State of California.
Remind me again what the Santa Ana Spring was all about?  It looks like an epic fail!