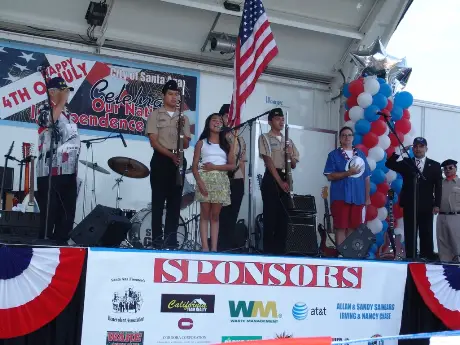 Community: PLANNING FOR 2012 INDEPENDENCE DAY CELEBRATION BEGINS
The Planning Committee is asking for Residents' Input during the Upcoming Planning Meetings
SANTA ANA, CA (March 8, 2012) – On Tuesday, March 6, 2012, Councilmembers Bustamante and Benavides, City Staff, and community members attended the first planning meeting for this year's Independence Day Celebration, to be held Sunday, July 1, 2012 at Centennial Park. 
Members of the community wishing to participate in the planning process are encouraged to attend the next planning session. Community participation is needed and encouraged to help make this noteworthy event a success. Details for the upcoming meeting are listed below:
What: Independence Day Celebration Planning Committee
When: Tuesday, April 3, 2012, at 5:30 pm
Where: Southwest Senior Center, Conference Room
2201 W. McFadden Ave.
Santa Ana, CA 92704
(714) 647-5306
For additional information, please contact Community Services Supervisor Jose Perez at (714) 571-4254 or e-mail: Jperez2@santa-ana.org.
####
Contact Information:
Jose Perez
Community Services Supervisor
714-571-4254
jperez2@santa-ana.org
Sent by City of Santa Ana, 20 Civic Center Plaza, 8th Floor/ P.O. Box 1988, Santa Ana, CA 92702