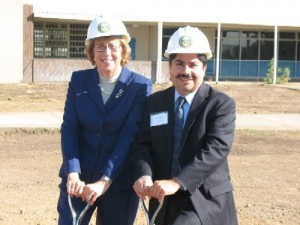 For Immediate Release: March 9, 2012
For More Information Contact: Carol Chamberlain – office: (916) 319-2069, mobile: (916) 804-5355
State Assemblyman Solorio's 2007 Legislation Authorizing Bond Sales to Build New Jail Facilities Yields Funding for Orange County
Orange County to receive $100 million for public safety facilities
SACRAMENTO – State Assemblyman Jose Solorio (D-Anaheim) took particular satisfaction in an announcement made this week by the State's Corrections Standards Authority. Orange County is slated to receive $100 million to start construction on new facilities to house local inmates and provide re-entry services.
The recent bond funding was authorized as part of the 2011 Public Safety Realignment legislation and incorporates Phase II prison construction funding proposed by AB 900 (2007). Authored by Solorio, that historic legislation authorized bonds to pay for prison construction and reform. Solorio was Chair of the Assembly's Public Safety Committee when then Governor Schwarzenegger signed AB 900 into law.
"It takes a significant financial commitment at the local level, bold leadership at the state level and a determined political will to implement Governor Brown's realignment strategy to reduce overcrowding at state prisons and reduce the recidivism rate," said Solorio. "Orange County certainly will be doing its part to assure that local inmates are housed safely and effectively, without having to release prisoners early."
To date, the Corrections Standards Authority has awarded approximately $1.2 billion to 22 counties for jail construction through bond sales first authorized by AB 900. The funding will help support the fundamental realignment of responsibilities for lower-level offenders and adult parolees from state to local jurisdictions.
"I've always believed that it takes a collaboration of creative and productive partnerships between law enforcement, probation, faith-based organizations, mental health clinics, victim advocate groups, the business community, and a variety of other social service providers to enable successful re-entry," said Solorio. "Having inmates serve their time close to their families and close to these community services will help to reduce recidivism."
This round, the Corrections Standards Authority awarded $602 million to 11 counties for the expansion or construction of county jails. Los Angeles, Riverside and Orange counties were awarded $100 million each. Stanislaus will receive $80 million, and Tulare and Santa Barbara $60 million each. The CSA also awarded $33 million to both Kings and Shasta counties; $23.626 million to Imperial County; $10.255 million to Sutter County; and $3 million to Madera County.
###
State Assemblyman Jose Solorio is the Chair of the Assembly Insurance Committee and also serves on the Assembly Appropriations and Transportation committees. He represents the Sixty-Ninth Assembly District, which includes the cities of Anaheim, Garden Grove, and Santa Ana. For more information about Assemblyman Solorio, visit www.assembly.ca.gov/solorio.