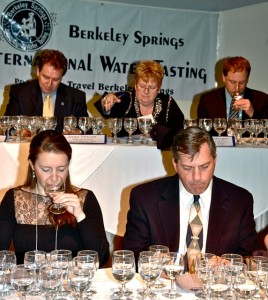 Community: SANTA ANA'S WATER RANKS AMONG THE WORLD'S BEST TASTING ON TAP
City Earns International Recognition For Its Award Winning Water
SANTA ANA, CA (March 8, 2012) – Santa Ana's Water Resources Division has been recognized for producing one of the best tasting and highest quality tap water in the world. The City received the silver award in the "Best Municipal Water" category at the Berkeley Springs International Water Tasting Festival, an accredited competition that attracts water submissions from all over the world each year.
"This is the second consecutive year our water has rated among the top in the world, an award we are proud to receive," says Ray Burk, Water Resources Manager, City of Santa Ana. "It demonstrates the stringent standards we set for our tap water, which are above and beyond the drinking water health standards required by both state and federal agencies."
These standards are outlined in the annual Water Quality Consumer Confidence Report, which will be sent to Santa Ana's water customers in May.
"Our city council and staff work diligently to provide, protect and preserve one of our most precious resources," adds Claudia Alvarez, Santa Ana's Mayor Pro Tem, who is also president of the Orange County Water District. "As a community, we can all be good stewards of our natural resources. Rather than buying bottled water, we can reduce our eco footprint by simply turning on our faucets and, at the same time, enjoy the healthiest and best tasting tap water possible."
More than 150 people and an array of water officials from the U.S. and abroad attended the water tasting festival last month in Berkeley Springs, West Virginia. Touted as the "Academy Awards of Water," the competition is the largest and longest running water tasting in the world dedicated to preserving and protecting drinking water.
For more information about your water, visit www.santa-ana.org. For more information about the Berkeley Springs International Water Tasting, visit www.berkeleysprings.com/water/about.htm.
###
For full details, view this message on the web.