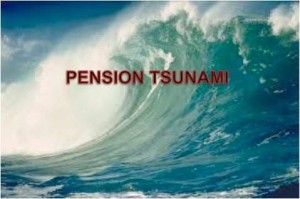 The Orange County Grand Jury has issued a new report on "Orange County City Pension Liabilities" and it turns out that the City of Santa Ana is very much in the hole.
Santa Ana has accrued $886M in public safety pensions and another $670M in other labor pensions.    The bad news is that Santa Ana only has $639M in market value assets to pay off the public safety pensions (for retired firemen and police officers).  Cops and firemen can retire at 55, and do so with huge pensions that can be in the six figures.
Santa Ana has only $456M to pay off their other public employee pensions, which comes to a 68% funded ratio.
Now you know why are police department is so under-staffed.  We are spending a fortune paying off retired cops.  Click here to see for yourself.  A cop with 20 years in the field can retire at 55 with a pension equal to 60% of his annual paycheck.  That is a lot more than you and I will get under Social Security.
This is also why we outsourced our fire department to the Orange County Fire Authority.
There is no telling how much money the City will need to set aside for lifetime healthcare benefits for retired cops, firefighters and other city workers.  That amount could be hundreds of millions as well.  Consider that cops, on average, live to the ripe old age of 85.
At this point the City Council really has no choice but to consider outsourcing the SAPD to the Orange County Sheriff's Department.  But the Santa Ana police union has been donating vast amounts of campaign money to the Santa Ana City Council.  They are bought and paid for and I doubt they will even consider outsourcing our police.  Instead you can bet that they will find ways to raise our fees and taxes.
In fact the City Council has put a measure on the November General Election ballot asking us to raise our telecommunications tax!  This is just the first attempt by this bunch to make us pay for the irresponsible pensions and benefits they have agreed to over the years.  Don't be fooled!  The City Council created this mess and they need to fix it without screwing us further in the process.