The CARES for Landlords program helps struggling low-income renters who have been unable to pay their rent due to COVID-19 by negotiating with landlords to pay back at least 80 percent of the monthly rent their tenant owes.
While the landlord applies for this type of assistance, the tenant must be considered low-income (earn less than 80 percent of the Area Median Income – AMI) and be in need of direct rental assistance. This financial assistance is a grant and does not have to be paid back.
CARES for Landlords funds may only be used to cover rent owed since April 1, 2020. Landlords and property owners are only eligible to apply on behalf of their impacted tenants.
This grant is part of the Santa Ana CARES program that provides financial assistance, free COVID-19 testing and other pandemic resources.
Learn more at https://www.santa-ana.org/CARES.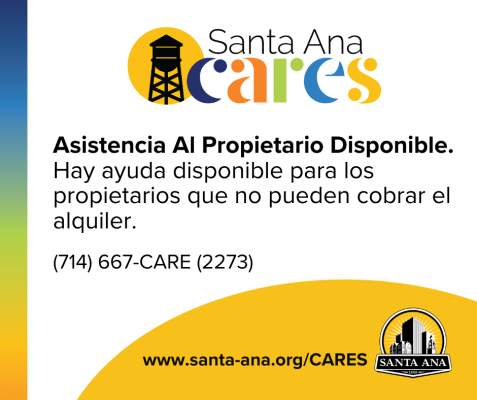 Programa de Asistencia Ayuda los Propiertarios, Inquilinos Pagando
El programa CARES para Propietarios ayuda a los inquilinos de bajos ingresos que no han podido pagar su alquiler debido a COVID-19 al negociar con propietarios para pagar por lo menos el 80 por ciento del alquiler no pagado.
Aunque el propietario solicita este tipo de ayuda, el inquilino debe ser considerado de bajos ingresos (ganar menos del 80 por ciento del Ingreso Medio del Área – AMI) y tener necesidad de ayuda directa con la renta. Esta ayuda financiera es una subvención y no se tiene que devolver.
Los fondos de CARES para Propietarios sólo se pueden usar para cubrir alquiler que se debe desde el 1º de abril, 2020. Los propietarios sólo califican para solicitar en nombre de sus inquilinos afectados.
Esta subvención es parte del programa Santa Ana CARES que proporciona asistencia financiera, pruebas de COVID-19 gratis y otros recursos pandémicos.
Aprenda más en https://www.santa-ana.org/CARES.