Salata, which bills itself as the "Next Generation Salad Bar" is going to reopen their 1,100 sq. ft. Santa Ana location this Thursday and will be giving out a free salad or wrap to the first 50 guests, according to the O.C. Register.
The Santa Ana Salata location is at 2 Hutton Center Drive #102. It was previously a franchise and is now a corporate location. It remains the only Salata location in Orange County.
Salata features over 50 different toppings that are chopped daily — not just tomatoes and cucumbers, but jicama, bean sprouts, feta cheese, fresh strawberries, pumpkin seeds and more. You can pick from one of their 10 house-made dressings and then complete your meal by adding fresh, lean protein — including grilled chicken, pesto chicken, baked salmon, herb-marinated shrimp and several others.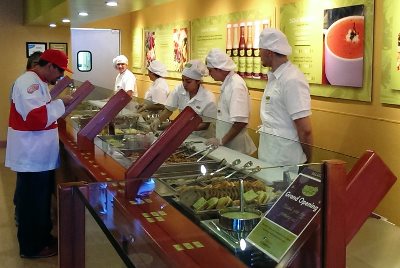 "Reopening our (Santa Ana) location has been top priority since it closed in February," said Salata founder Berge Simonian in a statement to the O.C. Register. "This restaurant was one of our first in the state, and we have taken steps to ensure it is a shining example of Salata's commitment to excellent service and high quality, fresh foods."
In early 2003, Simonian was running a small restaurant in an office building in downtown Houston when he noticed a growing trend. More and more guests were requesting fresh, healthy salads with made-from-scratch ingredients. So the wheels started turning, the testing began, and in October of 2005, Berge, along with his brother-in-law Tony, opened the very first Salata.
Through the years Salata has grown across Texas and now the U.S., with six locations in Southern California. They have more than 50 locations and plan to open 40 more by the end of next year. Salata also plans to expand throughout Southern California.