Santa Ana Police Department
Advisory: SAPD arrests sexual offender for sexual assault of 8 year-old girl at holiday event
On 12/12/15, the Santa Ana Police Department arrested Raul Martin, 59, of Santa Ana, for sexually assaulting an 8-year-old girl.
During the morning hours of 12/12/15, there was a gift / food give-a-way being held at Davis Elementary School, 1405 N. Spurgeon, Santa Ana. This give-a-way attracted a large crowd of families from the neighborhood. The parents of an 8-year-old girl and 10-year-old boy dropped their children off at Davis Elementary as they parked their vehicle.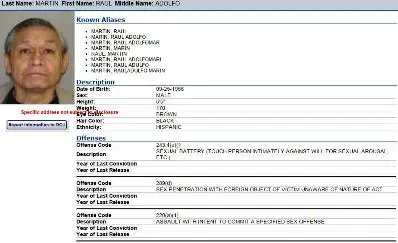 The siblings waited for their parents and sat down on a raised curb in the parking lot of the school. Martin approached the girl, sat down next to her, and began a conversation. It is alleged Martin then touched the girl inappropriately. A female adult attending the event observed Martin with the 8-year-old girl and assumed they were related until she saw Martin inappropriately touch the girl. The adult interceded, protected the girl from further assaults, and located the girl's parents.
Santa Ana Police patrol officers arrived and arrested Martin after other attendees pointed him out.
The Santa Ana Police Department is asking members of the public to report any inappropriate or suspicious contact they may have had with Martin to Detective J. Perez at (714) 245-8351. Martin is a registered sex offender who lives in apartments in the 1500 block of North Spurgeon in Santa Ana.
Martin was booked into the Santa Ana Police Detention Facility and charged with 288 (a) of the California Penal Code. Martin has a no-bail probation hold along with $200,000 bail for 288 PC and an immigration hold.