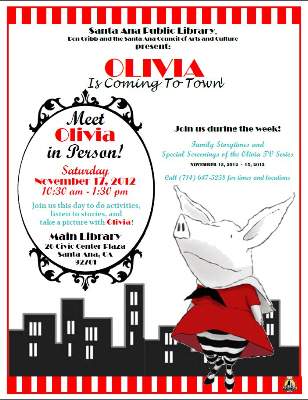 City of Santa Ana, Downtown Orange County Community Alert:
THE SANTA ANA PUBLIC LIBRARY AND THE SANTA ANA COUNCIL OF ARTS AND CULTURE WELCOME OLIVIA THE PIG TO SANTA ANA
SANTA ANA, CA (November 9, 2012) – The Santa Ana Public Library and Don Cribb, President of the Santa Ana Council of Arts and Culture, have teamed to produce "OLIVIA IS COMING TO TOWN" from NOVEMBER 13-17, to support youth reading programs and the organizations' joint "Library of Art, Architecture and Design."
After a week of story times featuring the precocious piglet, the event will culminate on NOVEMBER 17th, proclaimed "OLIVIA DAY" by the City. On that day, Ian Falconer's iconic children's book character will visit Santa Ana. Bringing her well-known wit and joy in living, Olivia will spend several hours at the Santa Ana Public Library, anxious to meet and greet children of all ages.
Music, activities and games, an OLIVIA opportunity drawing, reading of Olivia books, and an opportunity to have photos taken with "OLIVIA" are planned for the day's festivities. The books' author, Ian Falconer, has generously donated many Olivia themed items to increase the color and charm of Olivia's surroundings, and to provide items for an OLIVIA opportunity prize drawing. The November 17, 2012, celebration will begin at 10:30am and end at 1:30pm.
For more information, call 714-647-5258.
THE SANTA ANA PUBLIC LIBRARY IS LOCATED AT:
26 CIVIC CENTER PLAZA (corner of Civic Center and Ross)