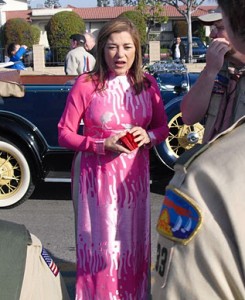 Congresswoman Loretta Sanchez, Representing California's 47th Congressional District
MEDIA ADVISORY, FOR IMMEDIATE RELEASE: July 8, 2011
MEDIA CONTACT: Adrienne Watson 202-309-0825
REP. LORETTA SANCHEZ TO TOUR LITTLE SAIGON BUSINESS DISTRICT
WASHINGTON, D.C. –Congresswoman Loretta Sanchez (CA-47), co-chair of the Congressional Caucus on Vietnam and member of the bipartisan-bicameral Joint Economic Committee will join Vietnamese American business leaders and members of the Vietnamese-American Chamber of Commerce in Orange County and the Asian American Business Women Association to visit the Little Saigon Business District. The focus will be on Little Saigon's small business community where she will meet with business owners and their employees to deliver a congressional update on the economy and jobs scheduled this Saturday, July 9, 2011 from 3:30pm – 6:00pm.
"The goal of the business walk is to hear about the business community's needs and inform them on initiatives Congress is taking to improve our economy," said Sanchez. "It helps me understand how Congress can better serve our local business community. I look forward to meeting the wonderful variety of new and established businesses in the Little Saigon district and learn about their services to Orange County consumers."
Date: Saturday, July 9, 2011
Time: 3:30pm – 6:00pm
3:30 pm – 3:45 pm Congressional Update at Zen Restaurant/Crepe Corner
Meet with members of VACOC and AABWA
3:45 pm – 4:00 pm Zip Post – cargo and mail services
4:00 pm – 4:15 pm Imperial Beauty Supply
4:15 pm – 4:30 pm Lee's Sandwiches – food, chain, mainstream expansion –
4:30 pm – 4:45 pm Dr. Trung Chinh – medical office
9411 Bolsa Ave, Ste B, Westminster, CA 92683
4:45 pm – 5:00 pm Law Offices of Phillip Ma – new business, second generation owner
5:00 pm – 5:15 pm Huong Huong Food To Go
9262 Bolsa Ave #C & D, Westminster, CA 92683
5:15 pm – 5:30 pm Van Son Music
9282 Bolsa Ave, Westminster, CA 92683
5:30 pm – 5:45 pm Van But Bookstore
5:45 pm – 6:00 pm RVN Boutique
Congresswoman Loretta Sanchez is proud to represent California's 47th Congressional District, which includes the cities of Anaheim, Garden Grove, Santa Ana, and parts of Fullerton in Orange County. She serves as Ranking Member of the House Armed Services Subcommittee on Strategic Forces and a senior member of the Committee on Homeland Security. Rep. Sanchez is also a member of the fiscally conservative Blue Dog Coalition and sits on the bipartisan, bicameral Joint Economic Committee.
###
United States House of Representatives
1114 Longworth House Office Building • Washington, DC 20515
Phone: 202-225-2965 • Fax: 202-225-5859