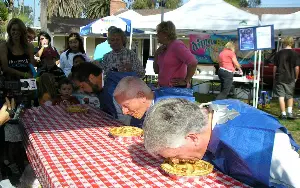 Urging the U.S. government to go on a spending diet, the Republican politicians on the Orange County Board of Supervisors turned down a shot at $10 million in federal funds to combat obesity, according to the RSM Patch.
How ironic since the Orange County Fair's theme this year is "Let's Eat!"
Anyone else see the irony in that?
If you are looking for discount tickets to the O.C. Fair click here.  You can get in free on July 15 – and commence eating.
And the OCTA is offering a special promotion too – a $1.50 bus ticket to the Fair and a coupon for $2 admission.  Click here to get the OCTA deal.
BTW, OC employee association (OCEA) union boss Nick Berardino just got appointed to the OC Fair Board.  Berardino is known for dragging his hot dog cart to events.  He ought to fit right in with the "Let's Eat," but not fight obesity, O.C. Supervisors: