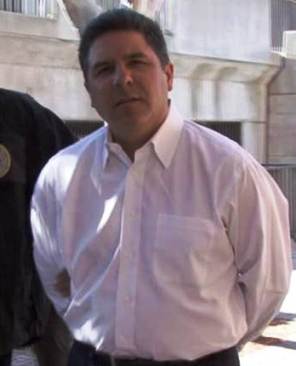 Remarks by District Attorney Tony Rackauckas
Charges Against Carlos Bustamante
July 3, 2012
When a person is elected to public office, or accepts a taxpayer-funded high-ranking executive position, that person owes a duty of trust to the public to protect the powers of that position.
One holds such a position not as an owner, but as a steward for a limited time. Holding such a position is a privilege bestowed by the public, and we must do all we can to safeguard the public's trust.
This case exemplifies an unacceptable abuse of power, abuse of position, abuse of women, and abuse of trust.
Santa Ana City Councilman Carlos Bustamante has been serving on the City Council since 2004. He has been with Orange County Public Works since 2003, most recently as an administrative manager. He has been active in local politics for many years. Many considered him a rising star.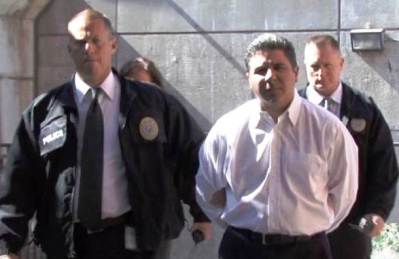 He was arrested yesterday afternoon.
During this press conference, I will:
– explain the course and scope of the investigation conducted by the Orange County District Attorney's Office;
– explain the nature and circumstances of the charges; and
– request the public's help in continuing the investigation.
The Orange County District Attorney's Office became aware of allegations against this defendant in March of this year, and we have been working diligently and against the clock on the investigation. Over 50 witnesses have been interviewed, many of whom were very reluctant to get involved.
For his sexual assault-related crimes, Bustamante is accused of sexually assaulting at least seven women who worked under him in his official capacity at Orange County Public Works between 2003 and 2011.
There are at least 12 other victims. Even though we cannot charge the defendant for these additional victims due to the statute of limitations, we are going to fight for justice on their behalf. We will seek to introduce evidence in court that Bustamante had the propensity to commit the crimes against Jane Does 1 through 7, based on the crimes he also committed against the other 12 victims.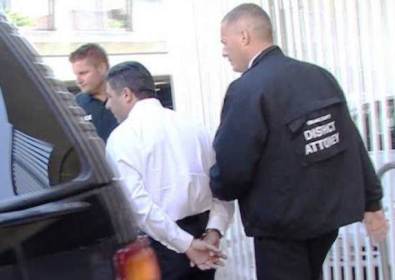 Carlos Bustamante is charged with the following:
Jane Doe #1 – two felony counts of false imprisonment, one felony count of attempted sexual battery by restraint,
and one misdemeanor count of sexual battery
Jane Doe #2 – one felony count of false imprisonment and one misdemeanor count of attempted sexual battery
Jane Doe #3 – one felony count of stalking
Jane Doe #4 – two felony counts of assault with the intent to commit a sexual offense
Jane Doe #5 – one felony count of false imprisonment, one felony count of assault with the intent to commit a
sexual offense, and one misdemeanor count of assault
Jane Doe #6 – two felony counts of false imprisonment
Jane Doe #7 – one misdemeanor count of battery
I am going to be measured in describing the incidents about the sex crimes and Bustamante's victims to protect their identity, privacy and dignity.
We intend to prove the following in court:
Who did Bustamante target?
– Women of similar ethnic backgrounds, age range, and physical characteristics. He had a type.
– County employees who were subordinate to the defendant; and
– Women who were emotionally vulnerable.
What did we hear from the victims?
Each of the victims was afraid that, if they reported the sexual assault, they would be committing career suicide.
– "Carlos was very well connected. Not just Executive Management at, here but in the City, he, at the Board level."
– "He was really close to our HR Manager. Everyone's under Carlos pretty much. Everyone, like he's like MR. *** like God kind of thing."
– "I was afraid of him because I saw how he would help other people get rid of people and fire people and I was afraid that that would happen to me."
– "We just didn't really think anything would happen …because of who Carlos is."
– "He kept talking about how he was in law enforcement, … you know he had a baton in his office and he pulled it out"
– "He …just seem[ed] like he was so completely untouchable … he had Arnold Schwarzenegger at his house
– I mean I know that Arnold's just a person, but still you know what I mean, like he was, drop names all the time"
How did Bustamante operate?
We intend to prove that he:
– Groomed his victims and wore them down by repeatedly making sexual comments and advances;
– Verbally badgered and mentally harassed some of his victims by referring to past sexual acts with or against them;
– Called or e-mailed to lure victims to his office under the pretense of needing to speak with them about work-related matters. Once the victims arrived, he cornered them by closing the door behind them and then he hugged them, kissed their mouths and necks, rubbed his face against theirs, grabbed their breasts, touched their bare thighs and moved his hand toward their vaginas, grabbed their buttocks, exposed himself, and sometime even masturbated in front of the victims.
– When the victims attempted to escape from the office, he cornered them to prevent them from leaving, pinned them against walls, or hugged them tightly and close enough for the victims to feel that Bustamante had an erection. They had to struggle to get away.
– Many of his victims believed that Bustamante's office was sound-proofed and no one would hear them if they screamed.
Where did the sexual assaults occur?
– Bustamante's office at the Orange County Public Works building at 300 N. Flower Street in Santa Ana;
– Stairwells; and
– Cars parked in random parking lots, structures, or other remote areas where Bustamante would drive them.
I have seen it occur many times in cases where a prominent person is charged with serious sex crimes – they blame the victims, accuse them of having motives other than seeking justice, and assassinate their characters. I truly hope this does not happen in this case. It is hard to imagine anyone being able to spin this as acceptable behavior.
These women deserve better.
For his fraud-related crimes, Bustamante has been charged with one felony count of grand theft by false pretense.
In 2010, Bustamante went to a 2 ½ week Senior Executives in State and Local Government program at the Harvard Kennedy School in Boston. As a County term of the defendant's participation in the program, Bustamante agreed to personally pay over $3,000 of that tuition.
The trip, when you add the tuition, meals, airfare, an extra bag, lodging and taxis, should have cost $12,791 and
change. Bustamante should have paid at least $3,200.
When his paper shell game was finished shuffling, the County paid for 97 percent of the junket, instead the
agreed upon 75 percent.
Bustamante is charged with requesting and receiving County tuition reimbursement which he had agreed to pay for personally in exchange for the County's agreement to pay 75 percent and allow him to attend. He is also charged for requesting and accepting a reimbursement for meals to which he was not entitled because they were provided at the school.
In all, he is accused of fraudulently receiving a $3,100 reimbursement, to which he was not entitled.
You may spin $3,100 as not a lot of money in a County with a budget over $5.6 billion.
To put it into perspective, one in seven County employees makes $3,100 or less a month.
Bustamante's was paid over $170,000 a year working for the County. It's hard to fathom why someone making a 6-figure income would be tapping the County for these amounts. Any amount of misuse of public funds is unacceptable. This grand theft occurred during one of the toughest fiscal times in County history.
Beginning in fiscal year 2008/2009, the County went into severe financial crisis and most County departments underwent budget and spending cuts, including cutting back on non-essential spending such as travel and training, as well as laying off and furloughing staff and implementing a hiring freeze.
Unfortunately, I believe our investigation has just scratched the surface. We believe there are a lot of witnesses who have information about this case, but have been reluctant to come forward for various reasons. We want to encourage anyone with information about this case to come forward.
We are also interested in knowing who knew what; when they knew it; and why Bustamante was able to get away with the abuse of the women who worked under him.
We want to know how a wolf was kept in charge of his prey for so long. How he was able to get away with a perverse abuse of position and power for the last eight years.
These are very serious charges, with serious consequences. Bustamante is facing more than 26 years in state prison if convicted of all counts.
I will now take questions.
###