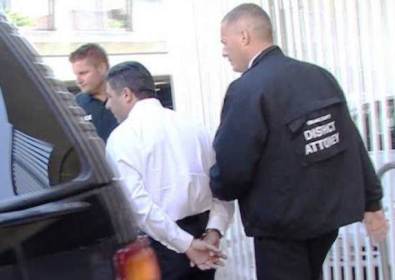 Orange County District Attorney
Press Release, For Immediate Release:  July 3, 2012
Contacts: Susan Kang Schroeder, Chief of Staff, Office: 714-347-8408, Cell: 714-292-2718
Farrah Emami, Spokesperson, Office: 714-347-8405, Cell: 714-323-4486
SANTA ANA CITY COUNCILMAN AND FORMER HIGH-RANKING EXECUTIVE FOR COUNTY OF ORANGE CHARGED WITH SEXUAL ASSAULTS AND THEFT OF PUBLIC FUNDS
SANTA ANA – A Santa Ana City Councilman who was a former high-ranking executive for the County of Orange until recent allegations related to this case surfaced has been arrested and charged with sexually assaulting seven subordinates and committing grand theft of public funds.
For his sexual assault-related crimes, Carlos Bustamante, 47, Santa Ana, is charged with six felony counts of false imprisonment, three felony counts of assault with the intent to commit a sexual offense, one felony count each of stalking and attempted sexual battery by restraint, and one misdemeanor count each of battery, assault, sexual battery, and attempted sexual battery with a sentencing enhancement allegation for committing the offenses as a result of sexual compulsion and for the purpose of sexual gratification.
For his fraud-related crimes, Bustamante has been charged with one felony count of grand theft by false pretense. If convicted on all counts, Bustamante faces a maximum sentence of 26 years and two months in state prison, plus an additional year and nine months in County jail, and would be subject to lifetime sex offender registration.
The defendant posted and is out of custody on $100,000 bail and is scheduled to be arraigned July 5, 2012, at 8:30 a.m. in Department C-55, Central Justice Center, Santa Ana.
Bustamante was arrested yesterday, July 2, 2012, in the parking lot outside of the Santa Ana City Council meeting by the Orange County District Attorney's Office (OCDA) Bureau of Investigation, who investigated this case. The OCDA began investigating in March 2012 after becoming aware of allegations against the defendant and over 50 witnesses have been interviewed.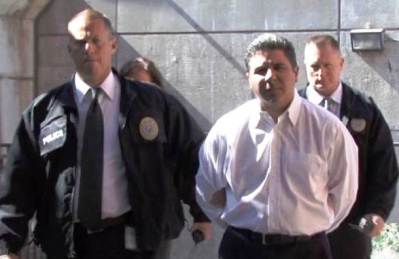 SEXUAL ASSAULTS
Victims
Bustamante is accused of sexually assaulting at least seven women between 2003 and 2011 while working in his official capacity at Orange County Public Works, most recently as an administration manager. The OCDA will seek to present similar sexual assault evidence against 12 additional uncharged victims at trial. Due to the statute of limitations, any misdemeanor occurring prior to July 2011 or felony occurring prior to 2002 or 2009, depending on the crime, cannot be charged.
The defendant is accused of targeting women with similar ethnic backgrounds, age range, and physical characteristics. All seven of the charged victims were County employees and subordinate to the defendant at the time they were victimized. Bustamante is accused of targeting victims whom he knew to be vulnerable due to their emotional state, current relationship status, or employment position. To protect the identities of the victims and the integrity of the ongoing investigation, no additional specific information regarding the victims will be released at this time.
Nature of the Sexual Crimes
The defendant is accused of engaging in similar behavior in approaching, grooming, wearing-down, and victimizing the seven charged victims. Bustamante is accused of frequently commenting on his victims' physical appearance and making inappropriate sexual comments privately and in front of others. He is accused of verbally badgering and mentally harassing some of his victims by referring to past sexual acts with or against them, and retaliating against them for resisting his advances by persisting in his behavior and refusing to let them leave a closed office without the victims relenting to a hug, kiss, or other sexual touching. The defendant is accused of frequently tightly hugging his victims and pulling them close enough for the victims to feel that Bustamante had an erection.
The defendant is accused of committing several of the sexual assaults in his office at the Orange County Public Works building at 300 N. Flower Street in Santa Ana. Bustamante is accused of using phone calls or e-mails to lure the victims to his office under the pretense of needing to speak with them about work-related matters. Once the victim arrived, Bustamante is accused of closing the door behind her.
Bustamante is accused of sexually assaulting the victims in his office including hugging them, kissing their mouths and necks, rubbing his face against theirs, grabbing their breasts, touching their bare thighs and moving his hand toward their vaginas, grabbing their buttocks, exposing himself, and masturbating in front of the victims.
Bustamante is accused of cornering the victims to prevent them from escaping by pinning them against walls, or hugging them tightly so that they had to struggle to get away. He is accused of intimidating several of his victims by telling them that his office was sound-proofed and no one would hear them if they screamed.
Bustamante is accused of engaging in the same criminal conduct against his victims in other locations including elevators and stairwells when no one else was present. He is accused of sexually assaulting some of the victims after cornering them in their own cubicles or closed offices. He is accused of regularly luring victims into a car under the pretense of having lunch or coffee or needing assistance with a work-related errand, and then sexually assaulting or masturbating in front of the victims in the car in random parking lots or structures or at remote locations to which he would take them.
Reporting by Victims
During the course of the investigation by the OCDA, the victims expressed similar reasons for not previously disclosing the sexual assaults including embarrassment, intimidation, and fear that Bustamante could severely affect their quality of life and work.
All of the victims worked for the County of Orange and needed and liked their jobs. Bustamante is accused of being in a position of authority over each of his victims. Each of the victims expressed fear for their professional future with the County if they were to have reported the sexual assault, including concern that they may lose promotional or growth opportunities or be professionally retaliated against.
Bustamante is accused of manipulating his victims by encouraging them not to speak with specific people within their County departments under the pretense of protecting them from problematic work-place relationships.
All of the women also explained to OCDA Investigators that they did not report the sexual assault because they each believed they were the only victim or feared that no one would believe them over Bustamante, whom they believed was highly-powerful and influential. The victims did not feel they could report the assaults to their human resources department, as the human resources staff reported to Bustamante and the victims perceived them to be friends. The victims also did not feel that they could report the assaults to the Santa Ana Police Department, as Bustamante is accused of frequently bragging about his relationships with members of the department. The defendant is accused of also intimidating the victims by regularly bragging about his law enforcement training, talking about guns, displaying police badges in his office, and showing some of the victims handcuffs and a police-type baton that he kept in his desk drawer.
Bustamante is accused of regularly bragging to the victims about his friends in positions of power, such as describing a dinner party in his home with then-Governor Arnold Schwarzenegger, and relationships with high-profile politicians and law enforcement leaders. The victims were intimidated by these relationships and feared their careers could be negatively affected by reporting.
The seven victims continued to believe they were the only victim until a formal investigation into Bustamante's conduct began.
Theft of Public Funds
Beginning in fiscal year 2008/2009, the County went into severe financial crisis and most County departments underwent budget and spending cuts, including cutting back on non-essential spending such as travel and training, as well as laying off and furloughing staff and implementing a hiring freeze.
In 2010, Bustamante is accused of wanting to attend a two and a half week Senior Executives in State and Local Government program at Harvard Kennedy School in Boston. The cost for the program was $11,200 plus airfare and other expenses.
Bustamante is accused of receiving County authorization to attend the program with the agreement that Bustamante would be responsible for paying 25 percent of the cost. Bustamante is accused of then having a requisition form created asking for tuition reimbursement to pay for that part of the program cost, contrary to his agreement to be personally responsible for a portion of the tuition.
An employee at the Orange County Auditor-Controller Office noticed the conflict between the agreement with the County for Bustamante to pay 25 percent and the language regarding tuition reimbursement in the requisition form. Bustamante is accused of being subsequently required to sign a letter stating that he agrees to personally pay $3,500 toward tuition for the Harvard Kennedy School program and re-acknowledging that the County would only pay $7,700 of the total tuition. The defendant is accused of paying $3,500 on July 2, 2010.
On July 27, 2010, despite the signed letter and prior agreement with the County, Bustamante is accused of submitting a $3,000 Educational and Professional reimbursement request to the County after returning from the Harvard program. Bustamante is accused of knowingly and fraudulently receiving the $3,000 reimbursement, to which he was not entitled or due.
Bustamante is accused of then submitting a separate reimbursement request for mileage, meals, and other expenses for the same program. County policy states that, if the County pays for an employee's participation in a program that provides meals as part of the program cost, that employee may not be reimbursed for privately purchased meals on days when meals were provided.
Despite this policy, Bustamante is accused of submitting a reimbursement request for $75 a day for 13 days. On two of the 13 days, breakfast, lunch, and dinner were all provided by the program and included in the tuition cost, therefore making Bustamante ineligible for reimbursements on those days. The defendant is accused of fraudulently receiving the reimbursement, including the $150 to which he was not entitled or due.
In all, Bustamante is accused of fraudulently requesting and receiving over $3,100 in County funds.
Request for Information
The investigation is ongoing. Anyone with additional information or who believes they have been a victim is encouraged to leave a phone message for the OCDA's Special Assignments Unit at (714) 347-8544.
Senior Deputy District Attorney Aleta Bryant and Deputy District Attorney Brock Zimmon of the Special Prosecutions Unit are prosecuting this case.
###
Tony Rackauckas, District Attorney
401 Civic Center Drive West
Santa Ana, CA 92701