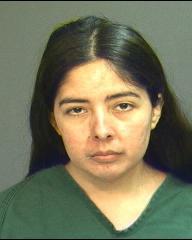 Santa Ana Police Department Advisory: Detectives arrest biological mother for the murder of her 2 month old infant
Arrested: Lucero Diaz Carrera (Biological Mother), Age:27
On June 29, 2012, at approximately 1620 hours, officers responded to 518 South Sullivan reference a two month-old baby girl that was possibly drowned by her mother, Lucero Diaz Carrero, age 27.  When officers and medics arrived, the baby was unconscious and not breathing. Orange County Fire Medics pronounced her dead at 1633 hours. Initial statements given to officers were the mother threw the baby in the pool. Additionally, the mother had taken a bottle of prescription medication. The mother was displaying symptoms of overdosing so medics transported her to Coastal Community Hospital intensive care unit where she was treated. Family Crimes Detectives responded and conducted a homicide investigation.
Further investigation revealed the child was in the sole care of the mother. When the grandmother came home from the store, she found the baby floating in a Jacuzzi tub half full of water. Based on evidence and witness statements, the mother was placed under arrest on suspicion of causing the death of the child. On July 2nd she was released from the hospital and booked at the Santa Ana Jail on charges of assaulting a child resulting in her death (PC 273ab) and homicide (PC 187).
For full details, view this message on the web.
Orange County District Attorney
Press Release, For Immediate Release: July 3, 2012
Contacts:
Susan Kang Schroeder
Chief of Staff
Office: 714-347-8408
Cell: 714-292-2718
Farrah Emami
Spokesperson
Office: 714-347-8405
Cell: 714-323-4486
MOTHER CHARGED WITH MURDERING 2-MONTH-OLD BABY GIRL BY DROWNING HER IN BATHTUB
SANTA ANA – A mother has been charged with murdering her 2-month-old baby girl by drowning her in a bathtub. Lucero Carrera, 27, Santa Ana, is charged with one felony count each of murder and assault on a child with force likely to produce great bodily injury resulting in death. If convicted, she faces a maximum sentence of up to life in state prison. Carrera is being held on $1 million bail and is expected to be arraigned this afternoon, Tuesday, July 3, 2012, in Department CJ-1, Central Jail, Santa Ana. The time is to be determined.
In June 2012, Carrera is accused of living in a trailer in Santa Ana with her mother and her 2-month-old baby daughter Kimberly Gutierrez.
At approximately 4:20 p.m. on June 29, 2012, Carrera is accused of filling her Jacuzzi bathtub half-way with water and intentionally murdering her baby by drowning her in the tub. The defendant is accused of then ingesting a large quantity of pills.
Carrera's mother returned home from shopping and discovered baby Kimberly face-down in the bathtub.
The Santa Ana Police Department, who investigated this case, responded to the scene. Carrera was located in the trailer and transported to the hospital.
Senior Deputy District Attorney Jim Mendelson of the Homicide Unit is prosecuting this case.
###
Tony Rackauckas, District Attorney
401 Civic Center Drive West
Santa Ana, CA 92701