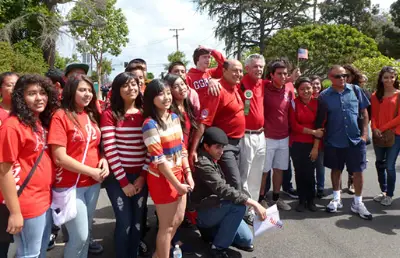 Dear Friends,
More than 200 years ago, our nation's Founding Fathers set out to create a blueprint for our freedom and democracy by writing the Declaration of Independence. On July 4, 1776, they built a foundation for democracy, as immigrants from around the world came to America in search of a better life. Every Fourth of July, we are thankful for the blessings of our great country.
As we join our families and friends for Fourth of July festivities, let's take some time to appreciate the freedoms we have in the United States. This is also an appropriate time to give thanks to our service members, past and present, for their strength and courage protecting our country every day.
Please be sure to take safety precautions while traveling, using the BBQ, and swimming this holiday weekend. The cities of Buena Park, Costa Mesa, Garden Grove, Huntington Beach, Santa Ana, Stanton, and Westminster are the only Orange County cities that allow state-approved fireworks.
Lastly, as we look to spend more time at our local beaches and parks this summer, I'm happy to share that our own Sage Park in Anaheim received a $302,350 renovation grant from the Department of Housing and Community Development.
From my family to yours, have a safe and memorable Independence Day!
Lou Correa
State Senator, 34th District
FOURTH OF JULY EVENTS
Anaheim
2012 Fourth of July Celebration
The Canyon Hills Community Council invites you to the 24th annual Fourth of July Celebration where over 30,000 people will gather to honor the brave soldiers that defend the United States. The parade and celebration will take place from 8:00am to 9:30pm at Peralta Park – 115 N. Pinney Drive, Anaheim.
Fullerton
July 4th Celebration
The City of Fullerton presents its annual Community Fireworks Show and Festival, which will include live music, fireworks, games, and food booths. The July 4th Celebration will take place from 5:00pm to 9:30pm at the Fullerton High School Stadium – 201 East Chapman Avenue, Fullerton.
Santa Ana
Independence Day Celebration
The City of Santa Ana is hosting its annual Independence Day Celebration with live music, food, fireworks, and much more. The celebration will take place from 2:00pm to 9:00pm at Centennial Park – 3000 W. Edinger, Santa Ana.
SUMMER SAFETY TIPS
California Department of Water Resources Safety Tips:
Learn to swim
Swim with a buddy
Wear your life jacket
Swim in safe or designated areas only and by a lifeguard
Look before you leap or dive
Don't mix drinking with recreation
For more water safety tips and information, please visit California Department of Water Resources website.
Forestry and Fire Protection Tips for Fireworks
Always read directions.
Always have an adult present.
Use fireworks outdoors only.
Never point or throw fireworks at another person.
Have a bucket of water and a hose handy.
Use only State Fire Marshal approved fireworks
For more fire safety tips, please visit the California Department of Forestry and Fire Protection website.
Grill Safety Tips
Gas
Check grill hoses for cracking, brittleness, holes, and leaks. Make sure there are no sharp bends in the hose or tubing.
Keep lighted cigarettes, matches, or open flames away from a leaking grill.
Do not attempt to repair the tank valve or the appliance yourself. See an LP gas dealer or a qualified appliance repair person.
Never use a grill indoors
Charcoal
Never burn charcoal inside of homes, vehicles, tents, or campers. Charcoal should never be used indoors, even if ventilation is provided
Since charcoal produces CO fumes until the charcoal is completely extinguished, do not store the grill indoors with freshly used coals.
For more grilling safety information, please visit Consumer Product Safety Commission website.
LOOKING FOR FAMILY ACTIVITIES THIS SUMMER?
Looking for family activities this summer? Visit these city websites for more information about summer events, camps, school programs and more:
http://www.buenaparklibrary.org/
http://www.fullertonrw.com/
http://www.ci.santa-ana.ca.us/library/newsevents/upcoming.asp
http://www.ci.stanton.ca.us/Portals/0/Documents/Brochures/
OnlinepdfversionJune112012.pdf
http://www.ggcf.com/
https://www.ci.garden-grove.ca.us/internet/pdf/commserv/
2012summerguide.pdf
http://ezrecconnect.anaheim.net/EZRecConnect/Start/
Start.asp?SCheck=167942006&SDT=41086.4272183681
http://www.westminster-ca.gov/news/displaynews.asp?
NewsID=513&targetid=1