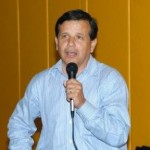 It's either a really slow news day or the Register's Santa Ana beat reporter Doug Irving is really desperate to try and tar and feather Mayor Miguel Pulido as election day grows closer.  In article written today Irving goes after Pulido for appointing his brother Luis to a part-time position at the South Coast Air Quality Management District.  The timing of the article is a bit peculiar given that Luis Pulido has been in that position since January 2009.
The appointment of Pulido's brother does not violate any laws and is one hundred percent above board.  Irving spoke with Dr. Barry Wallerstein, the Executive  Officer with the SCAQMD, and according to the article he said, "The district has no restrictions against it, and said Luis Pulido met the job requirements."
As Mayor Pulido pointed out his brother has a good understanding of air-quality issues do to his years of working in the muffler industy at the Pulido family's Ace Muffler Shop on First Street in Santa Ana.
The article quotes Mayor Pulido as saying, "I believe that my brother had superior expertise in some of the issues that come before the board," Pulido said. "It's worked out very well."
I suppose this article would have been of some consequence if the Mayor had actually done something illegal or if his brother was not qualified for the position but neither of those things apply here.  This looks to be nothing more than the latest attempt by the Amezcua campaign and their friends in the media to create a controversy when none exists.
Irving has recently been said to be trying to equate Santa Ana to Bell.  The only thing that the two cities have in common is that they are both governed by all Latino city councils.  Bell councilmembers gave themselves huge pay raises and were being compensated in the neighborhood of six figures a year.  The Santa Ana Mayor and Council have not received a pay raise sinc 1952.
Let me leave you with this, if Mayor Pulido's brother is qualified for the position why should he be prevented from serving in this position?  Lets not forget that President John F. Kennedy appointed his brother Robert to be Attorney General, would Irving, the Amezcua camp or the unhinged loons in the local blogosphere argue that he should have been prevented from doing this as well?