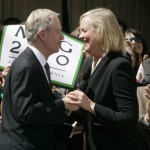 Campaign spokeswoman Sarah Pompei confirmed that Meg Whitman is opening an office in Santa Ana and said that it will "help our get-out-the-vote efforts for Meg and the entire Republican ticket," according to the O.C. Register.
The Whitman office will be on Fourth Street, in a former Western Wear store.
I find it highly unlikely that many residents of Santa Ana will be inclined to vote for Whitman and her GOP cohorts.  Her campaign chairman is former Governor Pete Wilson, who championed the infamous Prop. 187.
Here is how an L.A. Times reporter assessed Whitman's attempt to court the Latino vote:
Strategists from both parties agree that Whitman must win at least a third of the Latino vote to stay competitive in this blue state. No one realistically sees her winning a majority, but her flood-the-zone strategy has paid early dividends: A Field poll released in early July found the race a tossup and Brown leading among solidly Democratic Latinos by 50 percent to 39 percent, according to Politico.com.
Latinos should not buy into Whitman's B.S.  A vote for Whitman is a vote for the very same Republicans who have been bashing our people for several years.  No se puede Meg!