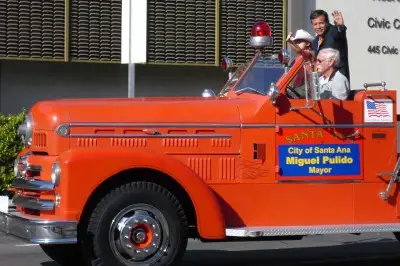 Sources at City Hall are telling me that Mayor Miguel Pulido is working overtime to stop an attempt by the Santa Ana City Council to draft a term limit measure that will eventually end his career as Mayor of Santa Ana.
The City Council appointed an Ad Hoc committee to consider term limits.  The term limit committee includes Council Members Michele Martinez, David Benavides and Vince Sarmiento. That committee will present their findings to their colleagues at the next Santa Ana City Council meeting.  It is thought that the committee will show up with a prepared ballot measure that the voters will be able to consider in the November general election.
I am also hearing that the ballot measure will cap the Mayor at eight years, or four two-year terms, but he will be able to then run for the City Council and serve up to 12 years there, for a combined 20 years of tenure.  The Mayor would have a new term limit clock as of November as the ballot measure would not have a retroactive affect.
Pulido lives in Ward 3, which is currently represented by Carlos Bustamante – it is unlikely he will run for reelection as he is facing serious sex crime and public theft felony charges.  There are numerous candidates running for Ward3, including Shane Barrows, a Park Santiago Neighborhood leader; Charles Hart, who like Bustamante is a Republican and a middle manager at the County of Orange; Planning Commissioner Eric Alderete; and former Council Member Brett Franklin, who already has Pulido's endorsement.
It seems unlikely at this point that Pulido will be able to stop the term limits measure from moving forward.  He simply doesn't have the votes on the City Council to back him up.
Pulido angered the City Council yet again recently by trying to force them to approve the appointment of Jill Arthur as the new Assistant City Manager.  Arthur is the former right hand of the former City Manager, Dave Ream.  She is also very tight with Pulido.
Pulido has also reportedly been trying to restore some of Ream's old buddies as city consultants.  It would appear that he is mired in business as usual at a time when the City Council is trying to move forward and get past their recent budget troubles.  But it would be premature to count out Pulido.  He always seems to find a way to prevail…