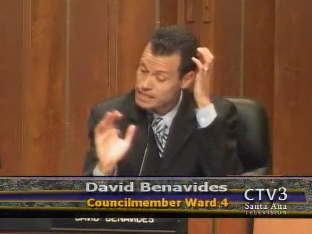 Is Councilman Benavides capable of running a Santa Ana City Council meeting?
Apparently our current Mayor Pro Tem, Sal Tinajero, is going to vacate the position and allow one of the other Santa Ana Council Members to become our new Mayor Pro Tem, at the next City Council meeting coming up on Tuesday.
Mayor Pro Tem is largely a ceremonial title but in the event that our Mayor, Miguel Pulido, is absent from a City Council meeting, or he either arrives late or has to leave early, the Pro Tem would step up and run the meeting.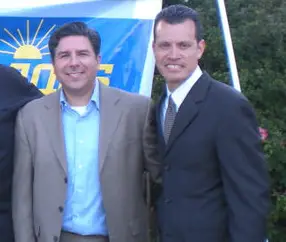 Carlos Bustamante and David Benavides – Two Peas in a Pod?
You may recall a few years ago what happened when then Councilman Carlos Bustamante was appointed as our Mayor Pro Tem. The experiment quickly ended when an overwhelmed Bustamante, who has since left the Council and is facing multiple felony charges related to sexual harassment in his former workplace, had to take over a Council meeting. He couldn't do it! So Claudia Alvarez took over and she continued in the Pro Tem post until she left the Council, after terming out. That is when Tinajero took over the post.
My sources tell me that the current Pro Tem opening is going to become a scrum between Council Members David Benavides and Vince Sarmiento. That is not much of a competition as Benavides is a not very successful Realtor and former youth minister while Sarmiento is a lawyer and a successful business owner. Of the two Sarmiento is by far a better speaker and a more professional presence. Ask yourself – can Benavides really handle running a City Council meeting or would he fall on his face like Bustamante did?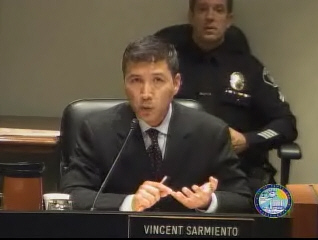 Say what you will about Sarmiento, but his penchant for trying to be everybody's pal is annoying this character trait will serve him well as a Mayor Pro Tem – when he will have to run our City Council meetings in a fair and objective manner.  Sarmiento is clearly more intelligent than Benavides and would as such be a better candidate for running what can be contentious meetings.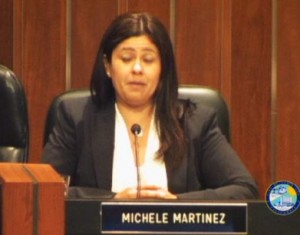 What about the other Council Members?  Michele Martinez already works harder than the rest of them do but she has a proclivity for acting silly and/or pedantic from time to time and that would not be appropriate for a Pro Tem.  Angie Amezcua, the accidental Council Member who lucked into a Council seat without mounting a political campaign, may not run for re-election in 2016.  And Roman Reyna is about as incapable as Benavides, his bosom buddy.  Plus Reyna just got his head handed to him in this year's Mayoral election.  Surely he is still in recovery?
What say you?  Vote for your choice for Mayor Pro Tem in our poll below and let your voice be heard!
Loading ...