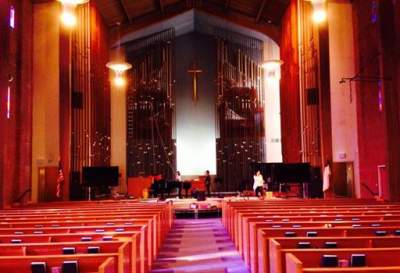 Newsong Church is consolidating their Sunday services and some of our ministry activities to their Santa Ana campus.  This is big news as they have been around for twenty years – in Irvine.  That campus will now be used for training and events.
Newsong acquired what used to be Santa Ana's historic First Baptist Church last year and renamed it 10Ten, a play on words as they are located at 1010 17th St., in Santa Ana.  The church is now full – while it was literally dying when it was First Baptist.  This merger of the two Newsong churches will be a real boon to restaurants in Santa Ana as the congregation is bound to have lunch in the area after church services.
The first combined services at Santa Ana are set for this Sunday, December 7, 2014, at 9:00 and 11:00 AM. This will be part of their preview phase in Santa Ana. They say that a Grand Opening will be coming soon.  There will be a prayer breakfast and preview tour of the facility on Saturday, December 6, 2014 at 8 am.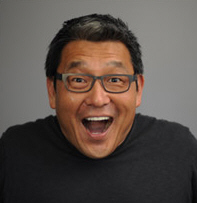 Newsong is led by Pastor Dave Gibbons.  Here are a few notes about him from his online bio:
Dave Gibbons has a passion for emerging, next-generation leadership development, community transformation and consulting business leaders and artists. He uses his passion in three different global playgrounds: The first is The Awaken Group, a consulting firm specializing in creativity, culture and innovation in leadership; the second is a movement of churches not bound by geography called Newsong throughout Southeast Asia, China, India, Korea, Mexico City, London, and North America. Lastly, there is a crazy bunch of people in an organization called Xealot that focuses on transforming marginalized communities through strategic leadership development and ideation ventures.
Dave has written a book on culture and leadership based on an eastern parable calledThe Monkey and the Fish.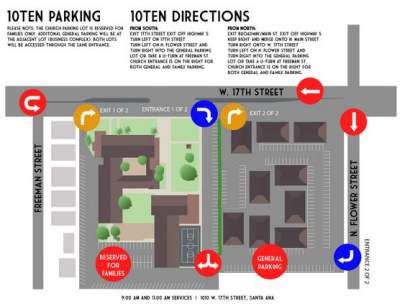 IMPORTANT INFORMATION YOU NEED TO KNOW:
Parking Entrances: Address is 1010 W. 17th Street, Santa Ana. There will be 2 entrances to the parking lot. (See the BLUE circles for entrances to Family and General Parking in the map above).
Exits: There will be 2 exits. (See ORANGE circles in the map above for exits from Family and General Parking)
Be safe and follow the signs and directions from our friendly parking volunteer staff.