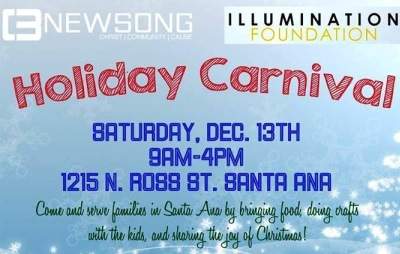 The Illumination Foundation is holding a Holiday Carnival for the families in Santa Ana on Saturday, Dec. 13, 2014, from 9 am to 4 pm, at 1215 N. Ross St. in Santa Ana.  Santa Ana's Newsong/10Ten Church will be feeding the families with a potluck!  Sign ups are on Doodle.
The Illumnination Foundation is looking for energetic individuals and volunteer groups to help run the kids' crafts/activities during this festive event. If you are interested in volunteering or helping with the unwrapped toy & gift card collection drive, please contact Sinae at sbang@ifhomeless.org.
A Holiday Carnival & Toy/Gift Card Collection Drive is set for December 13 @ 9:00 am – December 14 @ 4:00 pm.  Donations may be dropped off at the Irvine office (2691 Richter Ave, Suite 107, Irvine, CA 92606) Mon-Fri, 9am-5pm. The Holiday Carnival event hours are 11AM-2PM, volunteer shifts begin at 9AM and end at 4PM.
The mission of the Illumination Foundation is to provide targeted, interdisciplinary services for the most vulnerable homeless clients to break or prevent the cycle of homelessness.