[cardoza_wp_poll id=29]
Santa Ana City Council Member Michele Martinez, who is running for the First District of the Orange County Board of Supervisors, appeared on the John and Ken radio show yesterday afternoon, on AM 640. I don't think she knew in advance that John and Ken are conservatives – and they only invite politicians onto their show to embarrass them. The interview was hard to listen to as John and Ken yelled at Martinez throughout the interview and barely let her get a word in edgewise. You can hear the interview here.
The issue they were upset about is the homeless problem at Santa Ana's Civic Center. If you have not been out there recently you will be amazed and disgusted by the situation. Our Civic Center has essentially become a homeless camp with trash and human waste all over the place. The matter has been somewhat improved with the addition of more portable bathrooms but it is still far from optimal and is certainly not safe for those who have business at the Civic Center.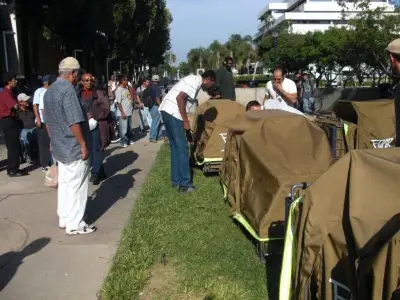 The County of Orange has stepped up their services in the past year, hiring a homeless czar and staffing a portable office at the Civic Center, where they talk to the homeless and try to connect them to local services and shelters.
The problem is that many of the homeless are exactly where they want to be. There are some who are drug and alcohol addicted and quite a few with mental problems, including U.S. military veterans suffering from PTSD.
John and Ken would prefer that the SAPD roust the homeless and drive them out of the Civic Center altogether. There are certainly laws on the books that would allow for this but all we would be accomplishing is moving the homeless from the Civic Center to another place – either in our city or elsewhere in Orange County.
So what else can we do? Be sure to fill out the survey below – you an choose up to three answers.
[cardoza_wp_poll id=29]