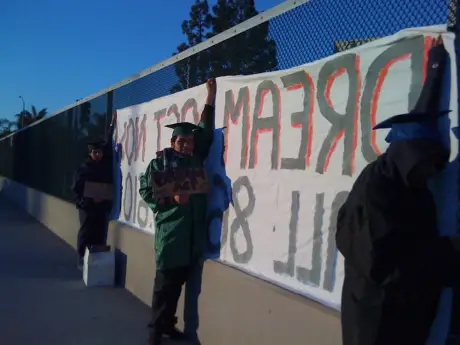 Congress on Wednesday is expected to begin its fight over extending legal immigration status to foreign-born youngsters with a scheduled cloture vote on the DREAM Act in the Senate, according to the L.A. Times.
The bill, whose cloture vote is expected about 4 p.m. EST, is being heavily pushed by Majority Leader Harry Reid (D-Nev.), who was reelected with a large Latino vote last month. He pledged to bring the measure to a vote, though it will likely fail because of strong opposition from Republicans to a what they have called a mass amnesty for illegal immigrants.
The National Council of La Raza (NCLR) is urging members of Congress to pass the "Development, Relief, and Education of Alien Minors (DREAM) Act."  This sensible piece of legislation would allow undocumented kids who have grown up in this country the opportunity to achieve conditional legal status, and eventually earn the ability to apply for citizenship, if they attend college or serve in the military.  Polls show the majority of the American public supports the measure, according to The Hill.
In an attempt to round up more votes on the DREAM Act immigration bill, House leaders are looking at adding an agriculture jobs bill that would ease rules for farm laborers, according to Politico.  I hope that works!
I just posted a story yesterday about the graduation and drop-out rates in Santa Ana.  While the dropout rates are discouraging, a lot of our students at the SAUSD do end up graduating.  It is so sad that many of them cannot go any further for lack of documentation.
The Dream Act would be a huge economic boost to the U.S.  We already paid to educate these kids.  Why not finish the task and let them go to college and have a path to citizenship?
For the Democrats this vote is crucial.  They must find a way to pass the Dream Act.  Republicans are generally against it, but if they don't start working with Latinos their future is going to be quite dim.  This is one bill that both parties should support!