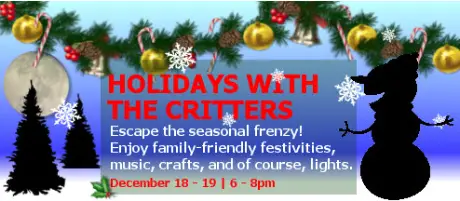 Are you ready for Holidays with the Critters?  The Santa Ana Zoo entrance and farm area will be transformed into a winter wonderland, with lighted displays, enchanting animals, seasonal music, arts and crafts tables, train rides, and storytelling, on December 18 and 19.
18-19: Holiday with the Critters: 6 – 8pm | Holiday family event with music, holiday crafts, lights and decorations.  Santa Ana residents get in FREE to the Zoo on Sunday, Dec. 19!  Click here to buy tickets if you want to go on the 18th or don't live in Santa Ana.
12/17: "Dreamnight" by special invitation only for children living with life-threatening conditions.
12/18: City of Santa Ana and Seniors Night. City residents, employees and seniors get in free.
12/19: Member Appreciation Night. Zoo Members get in FREE.
$6/person ($3/member) ages 2 & up
children under 2 free
Join the Zoo as a FOSAZ Member to get the half price by clicking HERE.  Admissions are good for any night.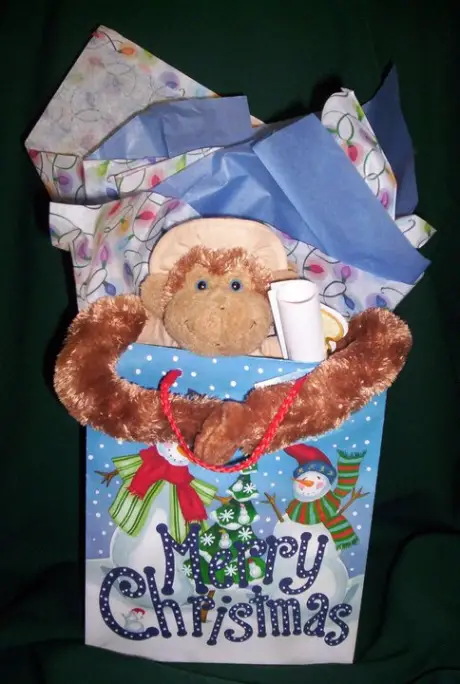 Buy someone special a Zoo Gift Bag, which includes a Family Club Membership gift certificate, good for free admission to the Santa Ana Zoo for up to 2 adults and 4 children for 12 full months. Also included is an Animal Tales newsletter, a SAZOO plush monkey, brochures and ribbons!  Only $65!  Click here to buy a Zoo Gift Bag.