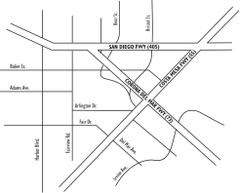 Costa Mesa Police Department
Advisory: OC Fair Traffic and Parking Advisory
It's OC Fair time, and this year, it's One Big Party! The OC Fair will be in town from July 17th – August 16th, and is closed on Mondays and Tuesdays.
We all know that along with the fair comes a large increase in traffic volume on streets adjacent to the fairgrounds. This year, the OC Fair has several promotions that will certainly have an impact on attendance and traffic.
Officer Chris Brunt, who oversees traffic control for the streets during the fair, offers these suggestions:
Avoid Fairview Rd., Newport Blvd., and Fair Dr. if possible during peak hours of the fair, which are typically between 5pm-8pm daily. This is during the evening rush hour, and people are coming to the fair for the concerts and activities in the arenas.
If you have to drive on Newport Blvd. or Fair Dr., stay in the left lane to avoid the traffic trying to enter the Fair.
The CMPD Police Explorers will be manning the parking lot on the east side of City Hall on Friday nights, as well as Saturdays and Sundays. Park in the lot to help support this great youth program.
Utilize one of these transportation and parking options:
Metrolink
Take Metrolink to the Anaheim Canyon, Santa Ana or Irvine Metrolink station and connect with OCTA's OC Fair Express which provides direct bus service to the OC Fair.
Metrolink riders who take the OC Fair Express will receive a coupon good for a $3 admission to the OC Fair. Those customers will save $9 on adult admission, $4 on senior admission and $4 on youth admission when using a coupon. Visit metrolinktrains.com or call 800-371-5465 (LINK) for train schedules.
OC Fair Express
Start at one of nine locations in Orange County, and ride the OC Fair Express non-stop to the OC Fair for $2 each way. Receive a coupon for $3 admission to the OC Fair. The Express operates Friday, noon to midnight & Saturday/Sunday, 10 am to midnight. Transit Locations: Anaheim, ARTIC, Fullerton, Huntington Beach, Irvine, Laguna Hills, Orange, Santa Ana, & San Juan Capistrano.
For more information, visit octa.net/ocfairexpress.
Free Off-Site Parking (Weekends Only)
Free parking and shuttle service available Saturdays and Sundays from the Experian parking structure off Bristol St. at the 405 freeway. Follow signs to Experian. Shuttle operates from 10 am to 1 am.
Orange Coast College Adams Lot. Exit at either Harbor or Fairview from the 405 Freeway and turn on Adams Ave. Follow the signs for OC Fair Parking. Free Shuttle to the OC Fair.
Ride Your Bike
Bike racks are located near the Blue Gate, Green Gate, and Yellow Gate entrances at the OC Fair
A common question is "how do I get to TeWinkle Park and the Bark Park?" During peak times, Arlington Dr. may be closed at Fairview Rd. If you are trying to get to TeWinkle Park, the Bark Park or Volcom Skate Park, you will need to enter Arlington from the east side at Newport Blvd. The adjacent map shows some streets that you can take without impacting the neighborhoods.
The easiest route will be to travel north on Fairview Rd. from Fair Dr., continuing to Baker St., then turn right and go to Bristol St. Turn right on Bristol St., and then turn right onto Newport Blvd.
###