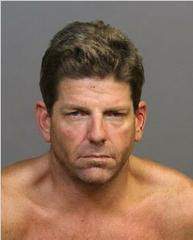 Costa Mesa Police Department
Community Alert: Sexual Registrant Arrested
Shortly after 6 a.m. this morning, Costa Mesa Police Officers were dispatched to an apartment complex on the 2100 block of Orange Avenue regarding the report of a naked male found by residents on their porch. Officers located and arrested the nude male, 43-year old Jeffrey Smith. Costa Mesa Police Detectives had been investigating Smith, since May of 2015, for several cases involving sexual battery, burglary, indecent exposure, peeping, prowling and trespassing. Those earlier cases all occurred during early morning hours on the east side of Costa Mesa.
In late April, Smith had been arrested for failing to register as a sex offender with Costa Mesa, and he was sentenced to 60 days in jail. Approximately one month later, in May, Smith was arrested in Costa Mesa for battery and trespassing charges. In early July, Smith was arrested for failing to register as a sex offender with Costa Mesa, however, upon formal review of the case by court staff, he was subsequently released from custody.
In addition to Smith's charges from this morning's incident involving disorderly conduct and indecent exposure, he was booked for the additional charges of burglary and sexual assault stemming from investigations of prior incidents. Smith was booked at CMPD Jail, and will be transported to Orange County Jail, Santa Ana where his bail will be set at $50,000.
No further details are being released regarding Smith's arrest. Any victims or witnesses with additional information regarding Smith's criminal activities should contact CMPD Detective Rob Hanson at 714-754-5162.
###