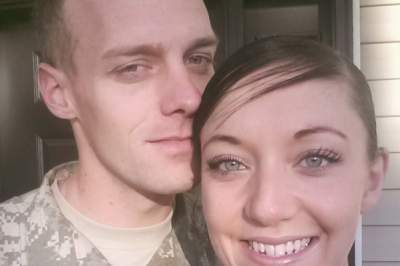 Veterans Day will be even more special this year in Orange County as a group of real estate professionals has stepped up to help a pair of Veterans who happen to be married – and who suffered an unbelievable calamity.
Chris Winterton has served our Country is the United States Army for 11 years as a Staff Sargent with the 1/211 Out of Utah and with the 116th Secor while deployed in Iraq. His wife Sarah, who also served, is currently with the National Guard.
Chris and Sarah met while serving and they were married in 2011. During his 11 years of service, Chris helped build schools in Nicaragua, helped here at home with Hurricane Katrina Relief efforts and deployed to Iraq in 2007. It was during this time tragedy stuck. Chris was injured suffering a traumatic brain injury (tbi) and was hospitalized. But he did not give up! In 2012 he deployed to Afghanistan, just 6 days after his son was born, to serve another tour. Unfortunately, his injuries sustained in Iraq caught up to him and he had to take a medical discharge from his career serving our country. He now deals on a daily basis with supporting his family, PTSD and TBI.
Chris and Sarah worked hard and saved everything they could to take a dream vacation to Cabo San Lucas for the Honeymoon they never were able to have while he was deployed defending our freedom. On September 15th at 3:00 am they packed the car and headed to the airport to begin their long journey from Utah to their dream vacation in Cabo San Lucas. As fate would have it tragedy struck this fine couple once again.
Upon reaching LAX they found that all flights to Cabo San Lucas had been cancelled due to Hurricane Odile. Their dreams were shattered and they lost nearly $1,000.00 of their savings to cancellation fees and rebooking of airplane tickets to get back home!!!! They can't afford to replace this trip.
So, thanks to KTLA Channel 5 Morning News, their plight was brought to the attention of a number of Orange County real estate professionals, including Mike Kerr of and Sean Mill of WFG Title as well as representatives of Movement Mortgage, Essex Mortgage, Cavalcade Escrow, and Sovereign Lending Group.
On Veterans Day, Nov. 11, 2014, at 8 am, Santa Ana Councilwoman Michele Martinez and Orange County Clerk-Recorder Hugh Nguyen will present a giant check to Chris and Sarah Winterton that will allow them to take a new honeymoon in Maui, including money for a nice hotel, airfare, meals and a little spending money!  They will also be recognized with a special certificate on behalf of Assemblyman Tom Daly.