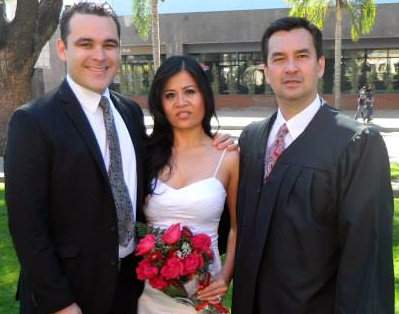 For Immediate Release: July 09, 2015
Contact: David Cabrera, (714) 834-2083, david.cabrera@rec.ocgov.com
Clerk-Recorder Celebrates Second Year of Award Winning Special Saturday Hours to the Public
This past June 27 represented the end of the second year in which Clerk-Recorder Hugh Nguyen has opened his offices to the public one Saturday per month. The pilot program was implemented shortly after Hugh Nguyen became the Clerk-Recorder back in April 2013. The Saturday openings have turned out to be very popular with wedding parties and other customers.
Since implementing the special Saturday openings, the department has issued 3,633 marriage licenses, performed 2,299 marriage ceremonies, and issued 1,320 vital records. The department has also accepted 438 passports applications. In addition, more than 29,582 customers and guests visited the offices to obtain services or to witness their family members or friends tie the knot at the department's marriage facilities.
The Saturday hours make it easier for working families and students who can't make it during the week to obtain services usually offered just on weekdays. For example, to obtain a passport for a child under the age of 16, both parents must be present to obtain the passport. The Saturday hours make this process easier for working families to get services without having to miss a day's worth of pay or students who can't miss a class.
"I'm extremely proud of our Saturday office openings, and I want to recognize my staff for volunteering to work on Saturdays and working hard to serve and meet our customers' needs," Clerk-Recorder Hugh Nguyen said. "Winning the CSAC and NACo awards pay tribute to the dedication we as a department have towards serving the public."
The department's next special Saturday hours will be on July 25, 2015. The department's branch offices in Fullerton and Laguna Hills and the Old County Courthouse in Santa Ana will be open to the public. Marriage licenses, marriage ceremonies, passports, passport photos, birth, death and marriage certificates and official records and the Archives will be available for the public. Please visit our web page at www.ocrecorder.com for more detailed information and for more on the services offered at each location.
###