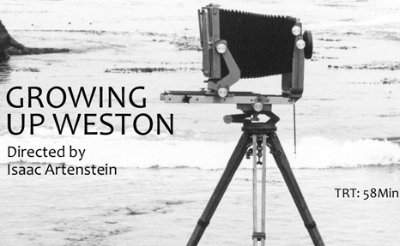 FOR IMMEDIATE RELEASE: July 9, 2015
MEDIA CONTACT: Victor Payan, Latino Audience Engagement Specialist, Vpayan@bowers.org, 714.567.3645
"Growing Up Weston" Documentary Screens at Bowers July 18
Film provides rare glimpse into famed photographer Edward Weston's Studio and Family Life
Santa Ana, CA (July 9, 2015)— Join award-winning writer/director Isaac Artenstein for a documentary journey to famed photographer Edward Weston's home studio on Wildcat Hill, in Northern California, as he screens his latest film, Growing Up Weston, at the Bowers Museum on Saturday, July 18 at 1:30pm.
Growing Up Weston delves into the intimate life and work of one of California's most celebrated photographers, and is a perfect companion to the Bowers' current Adams, Curtis and Weston: Photographers of the American West exhibit.
In Growing Up Weston, we visit the lovingly preserved Weston family home, and step into Edward's darkroom, where his grandson Kim Weston shows how his grandfather used a contact printer, a simple light bulb and a kitchen timer to create his highly sought after masterpieces.

Growing Up Weston captures Kim Weston at Wildcat Hill, near Point Lobos, where his grandfather lived and created some of the most iconic work in 20th Century photography.
Kim Weston also demonstrates his own photographic techniques in his darkroom and studio, where he holds workshops, lectures and special presentations year-round. Kim reminisces about early encounters with his grandfather and the inspiration derived from living and working where Edward Weston lived. He also recalls working with his beloved uncle Brett for 15 years as a darkroom assistant, helping to print many of his famed photos, including Holland Canal.
Artenstein began documenting the Weston family twenty years ago and returned on several occasions to record the work methods, the daily life and the essence of this unique family of photographers. Artenstein's interest in the Westons dates back to when he wrote and directed "Under a Brilliant Sky," a play about the relationship between Edward Weston and his lover and fellow photographer Tina Modotti.
Growing up Weston takes us on a journey down California's Highway One, to Garrapata Creek, to the home of Kim's father Cole, who demonstrates his pioneering color work and the printing methods that set him apart from his father Edward and brother, Brett (who almost exclusively photographed in black and white). Cole also shares intimate moments about growing up in Los Angeles in the early 1920s with his father, his mother Flora, and his older brothers. He also recounts traveling with Edward when he received the prestigious Guggenheim Grant, which enabled him to travel throughout the country taking photographs. He also discusses printing his father's work, a generational tradition that continues in this family of California photographers.
Growing up Weston is a loving documentary potrait of a photographic legacy and a first-hand look at an artistic community that has existed in the Carmel area since the beginning of the 20th Century and continues to this day. Growing Up Weston is a celebration of a family of artists, their work, and an invitation for audiences to experience life with passion and purpose.
Award-winning filmmaker Isaac Artenstein wrote and directed the feature film Break of Dawn, a biography of 1930s Los Angeles Spanish-language radio pioneer, Pedro J. Gonzalez, and produced the social satire A Day Without A Mexican. Artenstein has also directed and/or produced a number of award-winning documentaries, including Tijuana Jews, Ballad of an Unsung Hero, Diana Kennedy: Cuisines of Mexico and In the Name of the People, which was narrated by Martin Sheen. He has taught film production and directing at the University of Southern California and the University of California at San Diego, and was a founding member of the Border Arts Workshop in San Diego. His website is www.cinewest.net.
Admission: $8 General; Free with Paid Museum Admission; Free for Bowers Members. Tickets are non-refundable and are available online at www.bowers.org or at the Bowers' Visitor Services Desk. For more information, call 714-567-3645 or email programs@bowers.org. All proceeds benefit Bowers Museum Educational Programming.
The Bowers Museum is one of the cultural treasures of Southern California. Inside the museum, visitors will find superb exhibitions representing the best of art and culture in the world. In addition, the Bowers Museum has a fascinating schedule of presentations, movies and monthly cultural festivals for the whole family. Founded in 1936, The Bowers Museum has been voted "the best museum in Orange County" by readers of the Orange County Register for 16 consecutive years.
Located at 2002 N. Main St. in Santa Ana, the Bowers Museum is located in the heart of Orange County, and is easily accessible from the 5, 55, 22 and 57 freeways. It is also directly accessible via the OCTA 53 and 83 bus lines as well as the Anaheim Resort Transit (ART) shuttle Route 19.
BLUE STAR MUSEUMS
The Bowers Museum in Santa Ana is offering free admission for active duty military personnel and their families through September 7 as part of the Blue Star Museums program. The Blue Star Museums program is a collaboration between the National Endowment for the Arts, Blue Star Families, the Department of Defense and more than 2,000 museums across the United States that offers free admission to all military personnel on active duty and their families from Memorial Day through Labor Day 2015.
BOWERS MUSEUM
2002 N. Main Street, Santa Ana, CA 92706
Tickets and Information: 714.567.3600
Website: www.bowers.org or www.bowers.org/en-espanol