The family that owns Northgate Markets is adding an exciting new dining concept to their huge location in Costa Mesa. Mercado Gonzalez will feature more than 20 food stalls, live music, shopping galore and a fine-dining restaurant. It is inspired by Mexican mercados including Mercado de Coyoacan in Mexico City, Mercado de Abastos in Guadalajara and Mercado de Artesanias in Oaxaca.
Mercado Gonzalez is named after the founders of Northgate Markets – Don Miguel Gonzalez and Dona Teresa Reynoso de Gonzalez.
Mercado Gonzalez will allow patrons to walk around the hall, which will be part of a supermarket, snack on freshly prepared food, and check out the local vendors, butchers, cheese vendors, tortillerias, and other specialty shops, available from breakfast through dinner. There will also be live music!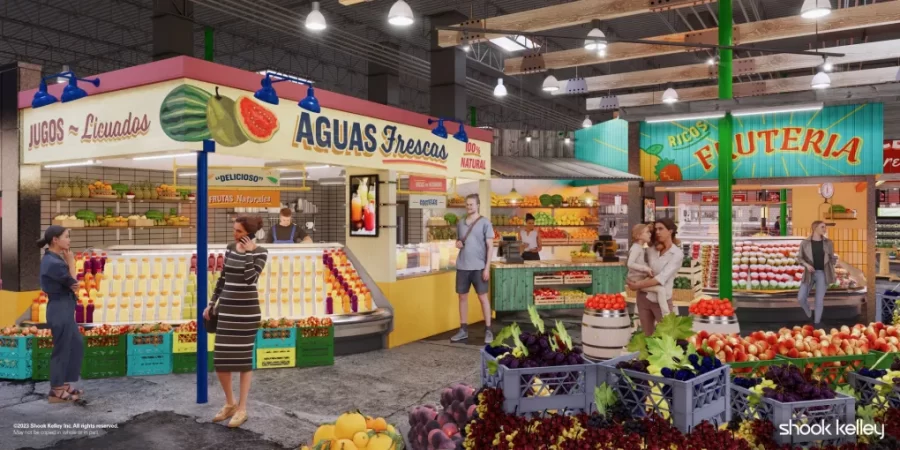 Mercado Gonzales will also feature Aguas Frescas, a full service liquor store with imported beers, wines, tequilas and mescal; La Gonzalez Tortilleria, which will serve birria, menudo and freshly-made tortillas; and desserts at Pasteleria La Gonzalez and Dulces Artesanos. The food vendors will include Mexico City churreria El Moro, which specializes in churros and seven kinds of hot chocolate; Chiva Torta, which of course will serve tortas; Los Guichos will provide tacos and Don Miguel will sell carnitas.
Mercado Gonzalez will also feature a couple of fancy restaurants: Maizano, by Jorge Salim and Javier Hernandez Pons, (they created LA Cha Cha Chá and Loreto in Los Angeles), will focus on Mexican heirloom corn. Their menu will include mole, sopa de Lima, memelas and tetelas. Salim and Pons are also opening Entre Nos, a huge outdoor bar which will offer a variety of drinks including micheladas, mezcal, tequila and Mexican beers.
Mercado Gonzalez will also help local street taco vendors, new chefs and caterers by providing a commissary kitchen that will provide them with a commercial kitchen where they can safely prepare their food. They will also help the street food vendors to get their food-safety certificates.
Mercado Gonzalez is opening at 2300 Harbor Boulevard, Costa Mesa, CA. The grand opening is set for Friday, Nov. 17. Hours will be from 6 a.m. to 11 p.m., seven days a week.
Northgate Markets started in 1980 and now has more than 40 locations throughout Southern California. Their ownership now includes a third generation with 13 siblings.