NEWS, FOR IMMEDIATE RELEASE
Contacts: Lt. Jeff Hallock, 714.904.7042, JHallock@ocsd.org; Emily Osterberg, 714.647.1840, EOsterberg@ocsd.org
Murder Suspect Arrested
WESTMINSTER, Calif. (September 11, 2015) – On Friday, September 11, 2015, Orange County Sheriff's Department Special Weapons and Tactics (SWAT) deputies arrested Craig Tanber, 37, Dana Point, wanted in connection with the stabbing homicide that occurred last Monday, September 7, 2015 in front of the Patsy's Irish Pub in the City of Laguna Niguel. Tanber was taken into custody without incident or injuries.
Tanber was arrested at approximately 6:15 a.m. this morning after investigators obtained information he was staying at the Motel 6 at 13100 Goldenwest Street., Westminster. SWAT operators made entry into the motel room and safely took Tanber into custody.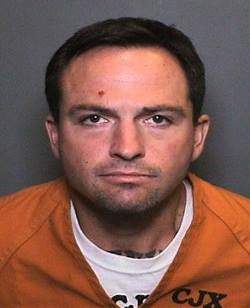 Tanber will be booked into the Orange County Jail on charges of murder. He will be held on $1 million bail and is expected to appear in court on Tuesday, September 15, 2015.
Anyone with additional information is asked to call Orange County Sheriff's Department's Homicide Unit at (714) 647-7055 or (714) 647-7000. Anonymous tips may also be submitted to Orange County Crime Stoppers at 855-TIP-OCCS (855-847-6227) or at occrimestoppers.org.
# # #