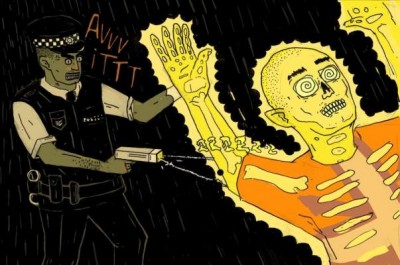 What did you do for fun on Friday night?  Julio Torres, a 30-year-old Santa Ana resident tried to set a 7-Eleven store, at the 2700 block of West McFadden, in Santa Ana, on fire, according to the O.C. Register.
Apparently Torres called the SAPD, when he arrived at the 7-Eleven store, just before 4 p.m., and told the police that there were people trying to kill him.
Torres locked himself into the 7-Eleven store's manager's office and refused to come out.  The customers and employees ran for safety when the police arrived.
The standoff continued and the SAPD had to bring in hostage negotiators to try to talk Torres into coming out. But that backfired as Torres then tried to set a fire in the store's office – and to top it all off he attempted to escape through the roof!
Well Torres ended his evening by burning himself and falling to the floor in the midst of his botched roof escape.  Then he tried running out the store's front door but he didn't get far before the police converged on him and tased him.
SAPD  investigators are not sure if Torres was high on drugs or if he was just having mental issues.  He is not believed to have had a weapon. No one was injured during the fracas except for Torres, who suffered minor burns.
Torres was arrested on suspicion of arson and burglary. And that is how he spent his Friday night.
This incident happened just northeast of Andrew Jackson Elementary School, in Santa Ana's Ward 6, which is represented by Councilman Sal Tinajero.