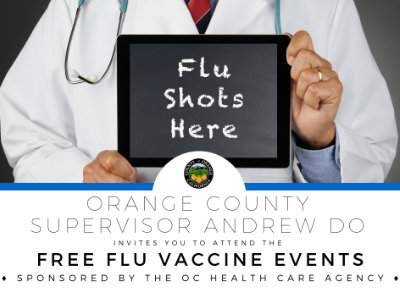 FOR IMMEDIATE RELEASE: October 30, 2015
CONTACT: Brian Probolsky, brian.probolsky@ocgov.com, (714) 834-3110
Get Your Flu Shot! Supervisor Andrew Do hosts Free Flu Shots Events in Westminster and Santa Ana
(Santa Ana, CA)— It's time to get your free flu shot. This November, Orange County Supervisor Andrew Do will be hosting two free flu shot events in Westminster and Santa Ana. Both events are co-sponsored by the Orange County Health Care Agency and run from 10 a.m. to 1 p.m.
November 6, 2015, 10 a.m. – 1 p.m.
County Community Service Center, 15460 Magnolia St., Westminster, CA 92683
November 13, 2015, 10 a.m. – 1 p.m.
The Delhi Center, 505 E Central Ave, Santa Ana, CA 92707
Free seasonal flu shots will be available to individuals age 3 years and older on a first come, first serve basis. Flu vaccine is recommended for children 6 months and older, however, the vaccines suitable for children under 3 years of age are not available at these events. Vaccines for all others, including pregnant women, will be available at these events.
Please note that you CANNOT receive a flu vaccine if any of the following apply to you:
You are sick on the day of the vaccination.
You are allergic to eggs.
You have previously had a reaction to the flu shot.
You were diagnosed with Guillain-Barre Syndrome within 6 weeks of a previous flu shot.
If possible, we ask that you please wear short sleeve shirts the day of the event to accommodate those administering the vaccines.
For more information regarding these events, you can contact Supervisor Andrew Do's office at (714) 834-3110 or at Andrew.Do@ocgov.com.
Orange County Supervisor Andrew Do represents the First District, which includes the communities of Garden Grove, Fountain Valley, Midway City, Santa Ana and Westminster.
###