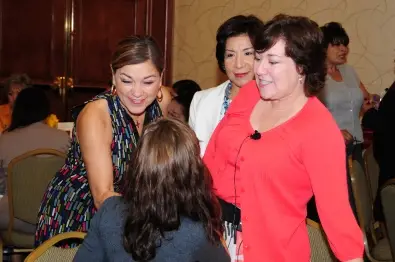 Congresswoman Loretta Sanchez Invites You This Monday Morning to Join Her For a Fundraising Breakfast and Discussion Panel
at the Balboa Bay Club, located at 1221 West Coast Highway, in Newport Beach, CA 92663
Monday, August 2, 2010, at 8:00 am – 10:00 am
Start your day with breakfast with Congresswomen Loretta Sanchez, Lucille Roybal-Allard, Carol Shea-Porter (NH) and Diane Watson (CA). Joining Loretta will be Costa Mesa Councilwoman Katrina Foley, Fullerton Councilwoman Sharon Quirk, Fullerton Mayor Pro-Tem Pam Keller, Irvine Councilwoman (and fellow Congressional candidate!) Beth Krom and Santa Ana Councilwoman Michele Martinez.
Loretta has been doing many great things for her district – securing funds for dredging of Upper Newport Bay, supporting border security, and securing funds to improve our state's water infrastructure.
Loretta is one of our great women elected leaders from Orange County, come out and support her for her re-election run. Call Kelly Martinez at 714-839-4431 or kmartinez@lorertta.org to reserve your seat.
Let's keep turning Orange County BLUE!
Sincerely,
Frank Barbaro
Chair
Democratic Party of Orange County