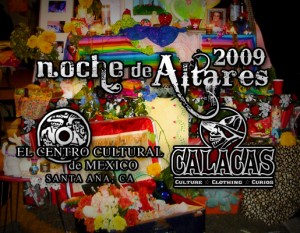 Santa Ana Mayor Miguel Pulido's wife, Laura Saari, is an accomplished freelance writer, and her latest article should be of interest to our readers.  Saari has written an article about Dia de los Muertos, in Orange Coast Magazine.  Here are a few excerpts from her article:
Halloween in Orange County is all about the drama: too much Disney with cleavage, too many Glinda the Good Witches, too much rented imagination. Needing respite—and recovering from a party that found me dancing with three gay guys in burqas—I headed to the Santa Ana Artists Village.
It was about 10 p.m. during the First Saturday Artwalk, but as I turned the corner onto the Second Street Promenade, High Mass rose up to meet me. Hundreds of flickering candles lighted the old brick street outside the Grand Central Art Center. Frankincense choked the air. Everyone seemed to be murmuring. The street was quiet, everyone reverent. An art installation, I thought. Then I saw a few skeletons on a display, and it finally clicked: I'd just stumbled into my first Day of the Dead.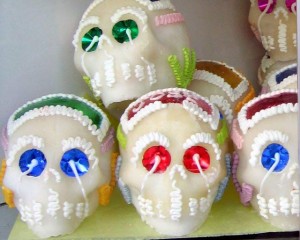 That was 1994, and I've attended almost every year since—though I am not yet a Day of the Deadhead (devotees who count this as their favorite holiday).
The ritual—which Santa Ana celebrates this year on Nov. 7— is a cultural amalgam, part ancient Celt, part Spanish, part Mayan and Aztec. The Roman Catholic Church adopted All Saints (Nov. 1) and All Souls (Nov. 2) days. Many cultures believe that the line between the living and the dead is blurred as October turns into November.
 Click here to read the rest of this article.
Click here to read about how you can enter your own Dia de los Muertos Altar in a Santa Ana art exhibit.
Click here to read about the upcoming Santa Ana Dia de los Muertos celebration.
And click here to find out about workshops being held here in Santa Ana regarding how to make sugar skulls.